The Right to Self-Determination: Catalonia plebiscite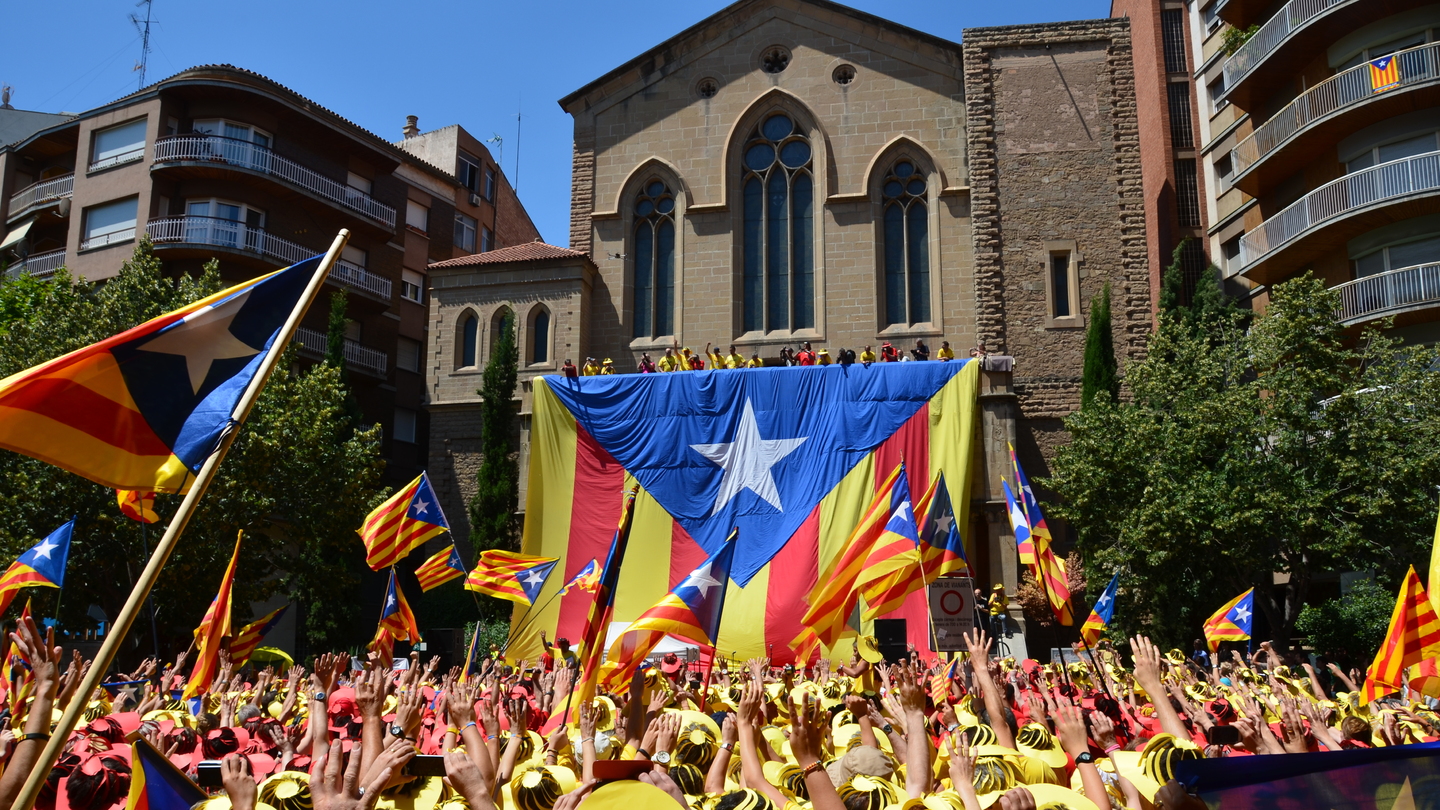 Today, October 1, Spain's autonomous region of Catalonia will strive to hold a referendum on its proposed secession from Spain, despite attempts by Spain's central government and Constitutional Court to thwart it. Arrests, prosecutions, ballot box confiscations, referendum site and poll station shutdowns by police have plunged the region into a state of emergency. The crackdown has polarized the nation as well as foreign observers and exacerbated the secessionist spirit amongst Catalans, who no longer see the referendum as a fight for independence but also for democracy and freedom of expression.

By Josep Renalias Lohen11 (Own work) [CC BY-SA 3.0], via Wikimedia Commons
While the vote is still scheduled to take place, the Spanish authorities have created several barriers, having confiscated 10 million paper ballots, closing down schools designated as polling stations, and most recently, threatening volunteers at voter stations with hefty fines for their collaboration. Meanwhile, much of the available technology that had been set up for voting, software designed to connect the polling stations and share the results through Catalonia's regional center in charge of telecommunications, has been dismantled, in an effort to make the voting process that much more difficult to organize.
Although Catalonia has a devolved government with limited power similar to that of Scotland, the Spanish government has so far denied the region the permission to hold a referendum on independence (as Scotland did in 2014). Catalonia bases its request for independence not on language, nor its long history as a unique and self-sufficient nation (prior to 1714 when it was absorbed by Spain) or even a time when it possessed an autonomous government, as it did between 1931-1939, but rather, on the right to choose to govern itself. Catalonia's delegate in Austria, Adam Casals, shares his views on the implications of this referendum: "This is no longer a fight for independence but for human rights and the future of Spanish democracy. We're seeing an approximation to the situation in Turkey, an Erdoganisation of our country, but it's impossible to deter the will of the people by way of suppression".
A Brief History
This is not the first time Catalonia has held a referendum. In 2014 it held a non-binding vote to ascertain the public's opinion on the notion of secession, which was nevertheless branded illegal by Spain's central government. Although below 50 percent of eligible voters turned out, 80 percent of them backed independence. This arose after several years of frustrated attempts by the Catalan government to negotiate its autonomy status vis-à-vis Spain. In September 2005 a Statute of Autonomy was passed which recognized Catalonia as a nation, limiting Spain's interference. A diluted version was approved in May 2006 but that same year, Spain's conservative Popular Party began a campaign against this new statute, fomenting the image of Catalans in favor as being nationalist-fascists.
The current tensions began in June 2010 when the Spanish Constitutional Court rewrote 14 articles of the Catalan Statute, additionally removing a section which referred to Catalonia as a nation. This was a revised statute from 1979 following the death of Spanish dictator Francisco Franco in 1975, after 40 years of repression in which even speaking Catalan was banned. General elections in Spain in November 2011 resulted in an absolute majority for the conservative People's Party. With this change of a more conservative and repressive Spain towards Catalonia, huge protests ensued and on the 11th of September 2012, National Day of Catalonia, over a million people gathered to protest in Barcelona under the slogan 'Catalonia: Next State in Europe'.
After holding strained negotiations with Spain's Prime Minister Mariano Rajoy, then-president of Catalonia Artur Mas proposed holding regional elections over the question of independence. Despite a formal request to hold a referendum at the start of 2014, it was rejected by Spain, resulting in a regional law being approved by the Catalan Parliament, which allowed its government to organize a "popular consultation". President Mas called the consultation for November 9 of that same year, and the unofficial vote was duly held, in which more than two million Catalan voters took part.
Days later, Spanish PM Mariano Rajoy denounced the vote, arguing that it disobeyed Spain's Article 2 of the constitution, which enshrines Spain's indivisibility. Criminal charges were soon filed against the Catalan President Mas as well as the Catalan Vice-President and the Minister of Education for convening the vote. Despite the setback, Mas and the two largest pro-independence Catalonian parties (CiU and ERC) started working towards a binding referendum, which was aided by a landslide victory for separatists in Catalonia's 2015 election. Once again, on Catalonia's National Day people took to the streets, this time gathering almost two million people calling for independence.
In January 2016 Carles Puigdemont of the nationalist PDeCAT party replaced Artur Mas after announcing his commitment to Catalonian independence. The following year's National Day once more gathered a million people calling for secession. In March of this year, former president Mas and his ministers were banned from office for two years as well as fined for not preventing the 2014 vote. Finally, in June, the Catalan Parliament moved forward and called the de facto referendum on independence for October 1.
The Outlook
A survey carried out by Catalonia's influential daily La Vanguardia in April of this year found that over 70 percent of Catalans would be in favor of holding a referendum. Of those respondents, 58,4 percent thought the referendum should be carried out in accordance with Spain's central government and less than 12 percent believed it would result in actual independence. In July, a survey commissioned by the Catalan government estimated that 41 percent were in favor of independence and 49 percent were opposed. Though projections waver, making it hard to pinpoint the population's stance on the matter, and with only around 50 percent of the population now expected to (attempt to) vote, it is clear that a majority of Catalan citizens think that the Spanish government should at least allow them the right to decide their future. And while the Catalan president has said that a unilateral declaration of independence is "not on the table", there is speculation among journalists and Catalan citizens that the Catalan government could still declare itself independent, if only out of defiance for not being allowed to hold the referendum in a free and transparent manner. There are also discussions of a general strike if the referendum is impeded.
In this regard, most Catalans feel the referendum won't be carried out in a conventional way, with sufficient enough participation to produce a plausible outcome, even if the mass mobilization of the people reinforces separatism, which might pave the way for another, stronger, vote on independence in the future. Within the pro-independence parties, there are also differences of opinion. The PDeCat party is more conservative and would prefer negotiations with Madrid whereas the far left CUP party wants an immediate UDI (unilateral declaration of independence). In the middle is the ERC party which might want the latter but understands it would be difficult to gain recognition from foreign states. Delegate Casals notes that "the parliament is the only body able to declare independence. If it wanted to it already has the majority [rule] in order to declare independence. But because we're democrats, we want the people to choose."
The question on the ballot paper will read: "Do you want Catalonia to become an independent state in the form of a republic?" The outcome of the vote will be binding and be declared by parliament two days after the Catalan electoral commission proclaims the results. President Puigdemont has said that if a majority wins, Catalonia will secede from Spain.
Tensions Running High
Meanwhile, Spain's paramilitary police force, the Guardia Civil, have been hunting for and confiscating ballot boxes, as well as sites promoting the referendum and seized over forty thousand documents relating to the polls. They have summoned individuals for their alleged involvement in developing web platforms for the vote, and on September 20, they searched the offices of Fundacio puntCAT, a foundation that promotes the Catalan language, and arrested Pep Masoliver, the head of its IT department. The raid was utilized in an effort to shut down such websites.
Simultaneously, Puigdemont has tweeted links to websites directing Catalan citizens where to vote, but the posts have been removed, and a solidarity movement and site, Escoles Obertes (Open Schools), has been initiated in response. Spain's public prosecutor has also assumed control of the Catalan Police force, the Mossos d'Esquadra, with the order to seal off all sites intended to be used as polling stations. In response, the Open Schools project offers those still seeking to vote information about their nearest polling stations. The national authorities have additionally deployed 4,000 police from outside Catalonia to assist the regional Mossos police to maintain order and prevent people from voting. Thousands are currently stationed aboard ships docked in Barcelona's harbor, ready to disrupt the voting.
In an additional measure on Wednesday afternoon, Spain's national court announced it was planning to investigate whether sedition charges should be brought against protesters and the Catalan National Assembly (ANC) and its president, Jordi Sánchez, for encouraging demonstrations in response to last week's arrests.
Implications of the Split
Catalonia accounts for about 20 percent of Spain's GDP, more than half of Spain's start-up investment and over 23 percent of tourist visits to Spain last year. As a result of such statistics, Catalans have complained that they contribute more to the national budget than they get in return, something which Mr Casals agrees on, especially given the hypothesis of an economic fallout similar to that of Britain following Brexit: "To the people who try to create panic, Catalonia will be a positive contributor, one of the few countries that donate to the EU…many experts agree that Catalonia has a viable future and that it meets the Maastricht criteria, notwithstanding the fact that the rest of Spain doesn't meet these criteria, thus, Spain could [stand to] suffer more [from this split]. Really the country that needs to be preoccupied is not Catalonia but the rest of Spain, where pensions are not guaranteed".
The question of EU membership is one of the trickiest implications, given that an independent Catalonia would most likely need to reapply, as president of the European Commission Jean Claude Juncker has noted, entailing that Catalonia's use of the euro could also be reconsidered. Catalonia would likely meet the technical criteria, but Spain could block its accession. To lose access to the single currency could hurt tourism, worth over 10 billion euros per year. Prompted to think about this scenario, Mr Casals likened it to one of divorce: "It's always something painful, difficult. If the people of Catalonia decide that we leave, it will be because Spain doesn't give us another option".
As the referendum approaches, Catalonia's regional police force will also be torn between upholding the law as decreed by the Spanish central government, or turning a blind eye to citizens seeking secretive poll locations to cast their vote, despite the fact that Spain's Constitutional Court has the power to suspend them from office if they refuse to follow orders.
This referendum has certainly galvanized the population, but the more the Spanish authorities tighten their grip, the more the Catalan people declare themselves separatists as they defend their democratic right to choose. Spain could invoke Article 155 of the Spanish constitution to suspend Catalonia's political autonomy, but few people believe it will come to that. Neither do they think it will turn to violence. Mr. Casals concludes: "If we lose the referendum, naturally we will accept defeat. We have only wanted to invite international observers to ensure that the referendum is being carried out in a democratic way, conforming to the European standard; that the referendum is seen as legal. By the same token, if we win, an independent Catalonia would have to vote on a constitution and if in future the Catalans wanted to return to Spain, that would only be possible through another referendum."
About the author:
Gabriela Anderson is a former intern of the IIR and is currently Managing Editor for its interdisciplinary journal New Perspectives.
Bibliography:
ACN, 'Catalan president calls joint security meeting with Spanish officials in preparation for Oct 1 vote', Catalan News, 27/09/17,
http://www.catalannews.com/politics/item/catalan-president-calls-joint-security-meeting-with-spanish-officials-in-preparation-for-oct-1-vote -- Last accessed 30/09/17
ibid. 'Spain's actions to be challenged in European Court of Human Rights', Catalan News, 27/09/17
http://www.catalannews.com/politics/item/spain-s-actions-to-be-challenged-in-european-court-of-human-rights -- Last accessed 30/09/17
ibid. 'Catalan president calls joint security meeting with Spanish officials in preparation for Oct 1 vote' Catalan News, 27/09/17,
http://www.catalannews.com/politics/item/catalan-president-calls-joint-security-meeting-with-spanish-officials-in-preparation-for-oct-1-vote -- Last accessed 30/09/17
Bathgate, Rachel, 'Schools call on citizens to ensure polling stations remain open on referendum day', Catalan News, 27/09/17,
http://www.catalannews.com/society-science/item/schools-call-on-citizens-to-ensure-polling-stations-remain-open-on-referendum-day -- Last accessed 30/09/17
BBC, 'Catalonia referendum: Does the region want to leave Spain?' 28/09/17,
http://www.bbc.com/news/world-europe-29478415 -- Last accessed 30/09/17
ibid. 'Catalonia referendum: Spain steps up raids to halt vote', BBC, 20/09/17, https://www.bbc.com/news/amp/world-europe-41331152 Last accessed 30/09/17
ibid. 'Catalonia referendum: Tractors roll into Barcelona to support vote', BBC, 29/09/17,
http://www.bbc.com/news/world-europe-41439787 -- Last accessed 30/09/17
Bush, Peter, 'Catalonia's right to self-determination', 20/09/17, TLS,
https://www.the-tls.co.uk/articles/public/catalonia-right-self-determination-referendum/amp/ -- Last accessed 09/30/17
Caparrós Martín, 'Cataluña: el viejo truco de la patria' [Catalonia: the old trick of the motherland], The New York Times, 25/09/17, https://www.nytimes.com/es/2017/09/25/cataluna-el-viejo-truco-de-la-patria/amp/ -- Last accessed 30/09/17
Castro, Carles, 'El 54% de los catalanes iría a votar el 1 de octubre' [54% of Catalans would go to vote on 1 October], La Vanguardia, 01/07/17,
http://www.lavanguardia.com/politica/20170701/423829428666/encuesta-la-vanguardia-referendum-cataluna.html -- Last accessed 30/09/17
Catalonia Votes, 'Timeline', http://www.cataloniavotes.eu/en/background/timeline/ -- Last accessed 09/30/17
Encarnación, Omar G., 'Why Catalan Independence Won't Happen Anytime Soon', Foreign Affairs, 29/09/17, https://www.foreignaffairs.com/articles/europe/2017-09-29/why-catalan-independence-wont-happen-anytime-soon?cid=nlc-fa_fatoday-20170929 -- Last accessed 30/09/17
García, Jesús, 'Los Mossos acatan la orden de cerrar los colegios pero alertan del riesgo de desórdenes' ['The Mossos obey the order to close the schools but warn of the risk of disorder], El País, 27/09/17,
https://elpais.com/ccaa/2017/09/27/catalunya/1506515793_336623.html -- Last accessed 30/09/17
Generalitat de Catalunya, 'Estudis d'opinió del CEO recents', http://ceo.gencat.cat/ceop/AppJava/pages/index.html -- Last accessed 30/09/17
Gotev, Georgi, 'The Brief: Catalonia, Scotland and the EU's double standards', EURACTIV, 12/09/17, https://www.euractiv.com/section/politics/news/the-brief-catalonia-scotland-and-the-eus-double-standards/ -- Last accessed 30/09/17
Guardia, Arnau Busquets, 'What Spain has to lose from Catalan independence', Politico, 09/11/17, http://www.politico.eu/article/catalonia-independence-referendum-what-spain-has-to-lose/ -- Last accessed 30/09/17
Ibid. 'Catalonia referendum: How did we get here?' Politico, 09/26/17, http://www.politico.eu/article/catalonia-referendum-independence-timeline-how-did-we-get-here/?utm_source=POLITICO.EU&utm_campaign=0868f41b44-EMAIL_CAMPAIGN_2017_09_26&utm_medium=email&utm_term=0_10959edeb5-0868f41b44-189625933 -- Last accessed 30/09/17
John, Tara, 'What to Know About the Catalan Independence Referendum', Time, 25/09/17, http://time.com/4951665/catalan-referendum-2017/ -- Last accessed 30/09/17
Jones, Sam, 'Spain to deploy police to prevent Catalan independence vote', The Guardian, 26/09/17, https://www.theguardian.com/world/2017/sep/26/spain-deploys-police-to-prevent-catalan-independence-vote-catalonia -- Last accessed 30/09/17
Ibid. 'Catalan leaders compare Spain to North Korea after referendum sites blocked', The Guardian, 27/09/17,
https://www.theguardian.com/world/2017/sep/27/catalans-compare-spain-to-north-korea-after-referendum-sites-blocked -- Last accessed 30/09/17
Keating, Joshua, 'Learning to Live With a Changing World Map', The New York Times, 22/09/17 https://www.nytimes.com/2017/09/22/opinion/sunday/kurdistan-catalonia-independence.html -- Last accessed 30/09/17
La Vanguardia, 'La Fiscalía ordena a los Mossos precintar los colegios electorales antes del día 30 hasta el 1-O' [The Prosecutor's Office orders the Mossos to seal off the polling stations before the 30th until the 1-O], La Vanguardia, 26/09/17, http://www.lavanguardia.com/politica/20170926/431578437386/fiscalia-ordena-mossos-precinten-desalojen-puntos-votacion-referendum-1o.html -- Last accessed 30/09/17
Ibid. 'La Audiencia Nacional investigará por sedición las protestas frente a Economia' [The National Court will investigate sedition charges for the protests before Economy], La Vanguardia, 27/09/17,
http://www.lavanguardia.com/politica/20170927/431595175883/audiencia-nacional-investigara-sedicion-incidentes-economia.html -- Last accessed 30/09/17
Liñán, Gemma,'Public Prosecutor asks Catalan police to close off polling stations', El Nacional.Cat, 26/09/17,
http://www.elnacional.cat/en/news/public-prosecutor-mossos-close-polling-stations-referendum_195453_102.html -- Last accessed 30/09/17
ibid.'National Audience agrees to hear sedition lawsuit over last week's protests', El Nacional.Cat, 27/09/17,
http://www.elnacional.cat/en/news/national-audience-sedition-protests_195825_102.html -- Last accessed 30/09/17
Lowe, Josh, 'Catalonia's Independence Referendum Is Getting Messy. Here's What's Going On', Newsweek, 9/20/17,
http://www.newsweek.com/catalan-referendum-catalonia-regional-government-arrests-668141 -- Last accessed 30/09/17
Martin, Will, 'A Catalonian split from Spain could be even worse than Brexit', Business Insider, 02/09/17,
http://www.businessinsider.com/catalonia-split-spain-economic-impact-ing-2017-9 -- Last accessed 30/09/17
McCall, Chris, 'Why Catalonia's independence vote is 'very different' from Scotland's', The Scotsman, 14/09/17,
http://www.scotsman.com/news/politics/general-election/why-catalonia-s-independence-vote-is-very-different-from-scotland-s-1-4560527 --Last accessed 30/09/17
Minder, Raphael, 'Tensions Rise in Spain as Catalonia Referendum Nears', The New York Times, 20/09/17,
https://mobile.nytimes.com/2017/09/20/world/europe/catalonia-referendum-spain.html?mwrsm=Facebook&referer=http://m.facebook.com -- Last accessed 30/09/17
ibid. 'Catalonia's Independence Referendum: What's at Stake?' The New York Times, 26/09/17,
https://mobile.nytimes.com/2017/09/26/world/europe/spain-catalonia-referendum.html?_r=0&referer=http://www.directe.cat/noticia/646962/el-new-york-times-no-creu-que-l-1-o-sigui-illegal -- Last accessed 30/09/17
M.R.,'Why the referendum on Catalan independence is illegal', The Economist, 26/09/17,
https://www.economist.com/blogs/economist-explains/2017/09/economist-explains-17 -- Last accessed 30/09/17
Orihuela, Rodrigo, 'The Ground War Over Catalonia Is Being Fought in Cyberspace', Bloomberg Politics, 29/09/17, https://www.bloomberg.com/news/articles/2017-09-30/the-ground-war-over-catalonia-is-being-fought-in-cyberspace -- Last accessed 30/09/17
Ottens, Nick, 'The Arguments For and Against Catalan Independence', The Atlantic Sentinel, 13/09/17, http://atlanticsentinel.com/2017/09/the-arguments-for-and-against-catalan-independence/ -- Last accessed 30/09/17
Ibid. 'Madrid's Intransigence to Blame for Catalan Separatism', The Atlantic Sentinel, 12/10/14, http://atlanticsentinel.com/2014/10/madrids-intransigence-to-blame-for-catalan-separatism/ -- Last accessed 30/09/17
Parra, Aritz, 'Catalan leader says Europe can't ignore independence vote', AP News, 27/09/17,
https://apnews.com/f8c82a206eac4e20b120c9a517331c29 - Last accessed 30/09/17
Pearse, Damian, 'Spain orders police crackdown on Catalonia referendum officials', Sky News, 26/09/17,
http://news.sky.com/story/spain-orders-police-crackdown-on-catal26onia-referendum-officials-11054571 -- Last accessed 30/09/17
Puigdemont, Carles, 'Spain's attempt to block Catalonia's referendum is a violation of our basic rights' The Guardian, 21/09/17,
https://www.theguardian.com/commentisfree/2017/sep/21/catalonia-bloack-catalonia-referendum-rights-mariano-rajoy-carles-puigdemont -- Last accessed 30/09/17
PUNCH, 'Police probes Catalan referendum website developers'
25/09/17, http://punchng.com/police-probes-catalan-referendum-website-developers/ -- Last accessed 30/09/17
Roeber, B. & Hammar, A. E., 'What you need to know about the Catalan independence referendum', abc NEWS, 26/09/17,
http://abcnews.go.com/International/catalan-independence-referendum/story?id=50026833 -- Last accessed 30/09/17
Russell, Richard, 'In defence of referendums – they're unpopular, but we need them', The Guardian, 28/09/17,
https://www.theguardian.com/commentisfree/2017/sep/28/brexit-catalonia-referendums-anger-politics -- Last accessed 30/09/17
The Associated Press, 'The Latest: Organizer: Polling place closures threaten vote', abc News, 30/09/17, http://abcnews.go.com/International/wireStory/latest-police-give-deadline-catalan-school-occupiers-50195992 -- Last accessed 30/09/17
Torres, Diego, 'Mariano Rajoy on Catalonia: 'There won't be a referendum', Politico, 09/07/17,
http://www.politico.eu/article/mariano-rajoy-on-catalonia-there-wont-be-a-referendum/ -- Last accessed 30/09/17