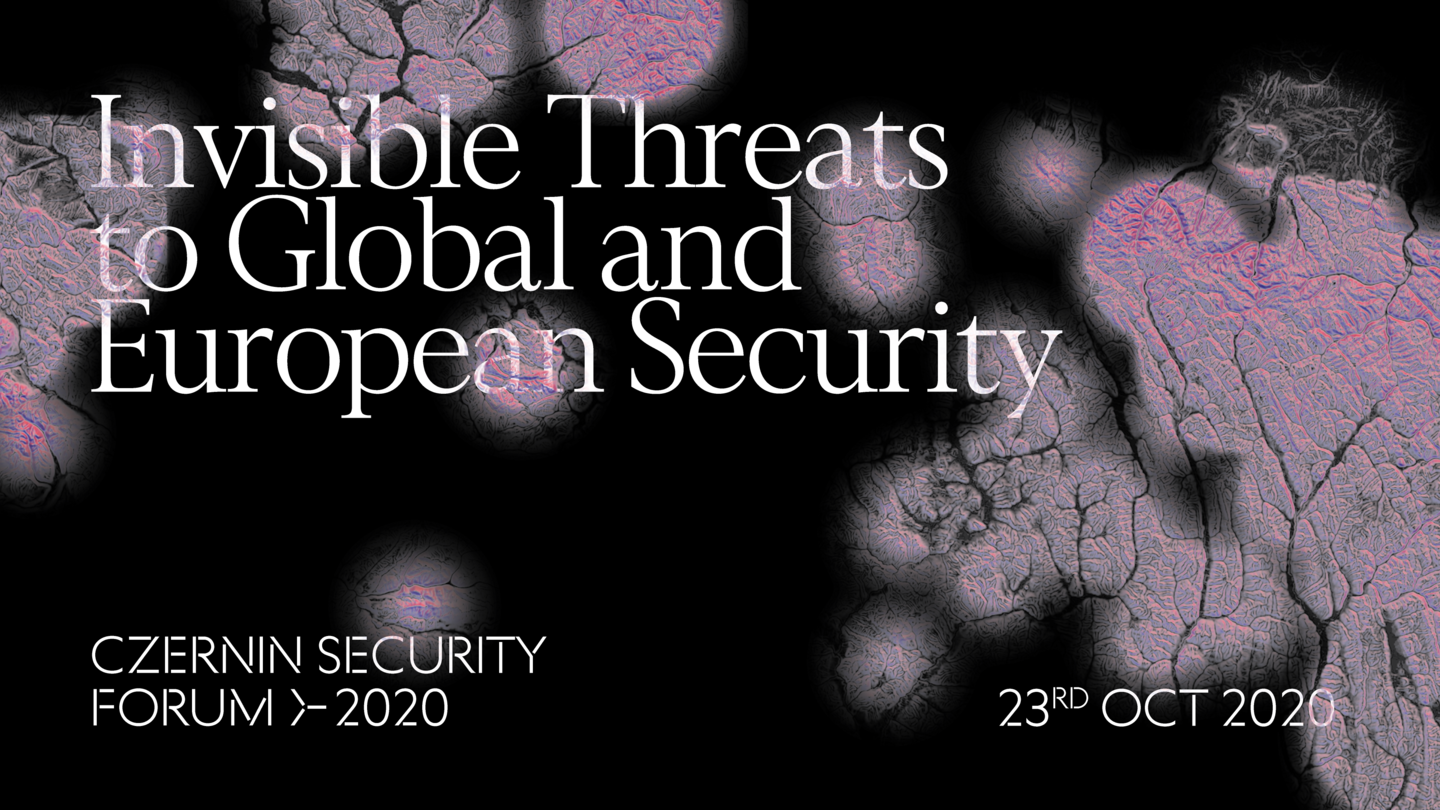 Czernin Security Forum 2020
Save the date for the annual Czernin Security Forum, this year on Invisible Threats to Global and European Security: Actors, Targets and Responses. It is a unique event that will be held online on 23 October 2020.
23. 10. 2020 (9:00)
ONLINE
A variety of security challenges occupy the gray zone between war and peace. Many of them are borderless, hardly intelligible and barely visible using traditional frames of reference. These threats and challenges range from now already more familiar ones such as terrorism, political propaganda and insecurity over natural resources to more recent issues like adverse security impacts of climate change and social vulnerability to pandemics as shown by the advent of a silent threat of COVID-19. The power of national governments will rarely suffice to deal with these threats and to deliver public security without solving a collective action problem. Thus, a proper understanding of the causes and consequences of these threats is necessary to foster better policy responses and international cooperation. Many issues need to be addressed in order to achieve that. What capacity do the state actors have to counter nonstate malicious actors or adverse global phenomena, and what kind of new partnerships and support networks can they benefit from? How to effectively deploy the state power to deter, contain and brace against borderless security threats? How do law enforcement agencies deal with threats below the conventional level, and how can their responses be improved? Are international institutions, providing fundamental support not only to smaller states such as the Czech Republic, prepared to deal with invisible threats and black swan (but also grey rhino) events, and how can their capacities to do so be enhanced? All these questions will foster the discussions of the Czernin Security Forum 2020.
Day 1

23/10/2020
Keynote Speech / Opening remarks
Rafal Rohozinski
Co-founder and principal of the SecDev Group.
BIO
Moderator: Asya Metodieva
IIR Prague, Czechia
Success and Failure in Detecting Invisible Threats
Some security threats are highly probable. We can see the dust cloud on the horizon long before a threat comes into view. Some threats are rare and others occur after a series of warnings. What are the factors that prevent us from seeing imminent threats? When do policymakers succeed or fail in responding to such events? Is it about the nature of the threat, resources, or strategic culture?
Moderator: Ondřej Ditrych
Whose security? Divisions in Europe on Threats and Security Responses.
Differences and dividing lines between and within European countries usually become more visible following big challenges such as disinformation campaigns, Brexit, and COVID-19. Divergent approaches and political attitudes among EU member states have magnified the discussion about East vs. West, core vs. periphery, and/or Brussels vs. national capitals. Are we all in the same boat? How do European countries define solidarity in times of crises? Do member states differ greatly in defining security threats and providing responses?
Daniel Hegedüs
Research fellow at the German Marshall Fund
BIO
Susi Dennison
Senior Policy Fellow at the European Council on Foreign Relations
BIO
Valery Perry
Senior Associate at the Democratization Policy Council (DPC)
BIO
Vesna Pusić
Co-founder of the Civil Liberal Alliance in Croatia
Expert workshop: Trust in National and International Institutions
What framework do we need to reduce future uncertainties? Presentation of the IIR Policy Paper "Border Control and Invisible Threats. Does the Closure of Borders in Europe Stop covid-19?".
Discussant: Cameran Ashraf
Assistant professor at the School of Public Policy, Central European University.
Moderator: Asya Metodieva
IIR Prague, Czechia
The Post-Pandemic World Order and Security Dilemmas: Freedom vs Security
The world has faced a global crisis in 2020. The related decisions of societies and their leaders will probably shape the world for years to come. Governments have justified restrictions on civil liberties by the necessity to provide public safety. Are we going to witness under-the-skin surveillance? How do crises empower authoritarian tendencies, populism and polarization? Does a state of emergency affect democracy? Which political regime is more capable of dealing with invisible threats?
Mateja Peter
Director, Centre for Global Law and Governance, University of St Andrews
BIO
Christopher Coker
Director of LSE Ideas, London
BIO
Cameran Ashraf
Assistant professor at the School of Public Policy, Central European University
BIO
Moderator: Asya Metodieva
IIR Prague, Czechia
The Next Borderless Malicious Strategies. Are We Ready?
From states to multinational companies, criminal organizations and hackers, actors have attempted to take advantage of the global crisis in 2020. What are the effects on security and problems of political violence? How did state and non-state actors benefit from the pandemic? What changes in their strategies and tactics shall we expect?
Nicolas Stockhammer
Researcher on security and terrorism, University of Vienna
BIO
Christina Schori-Liang
Head of Terrorism and PVE, Geneva Centre for Security Policy
BIO
Jessica White
Research Fellow in RUSI's Terrorism and Conflict group
BIO
Moderator: Emil Aslan
IIR Prague, Czechia
Closing Remarks
Moderator: Asya Metodieva
IIR Prague, Czechia
Video 1
Video 2
Video 3
Video 4
Video 5
Video 6
Video 7
Auspice
Ministry of Foreign Affairs