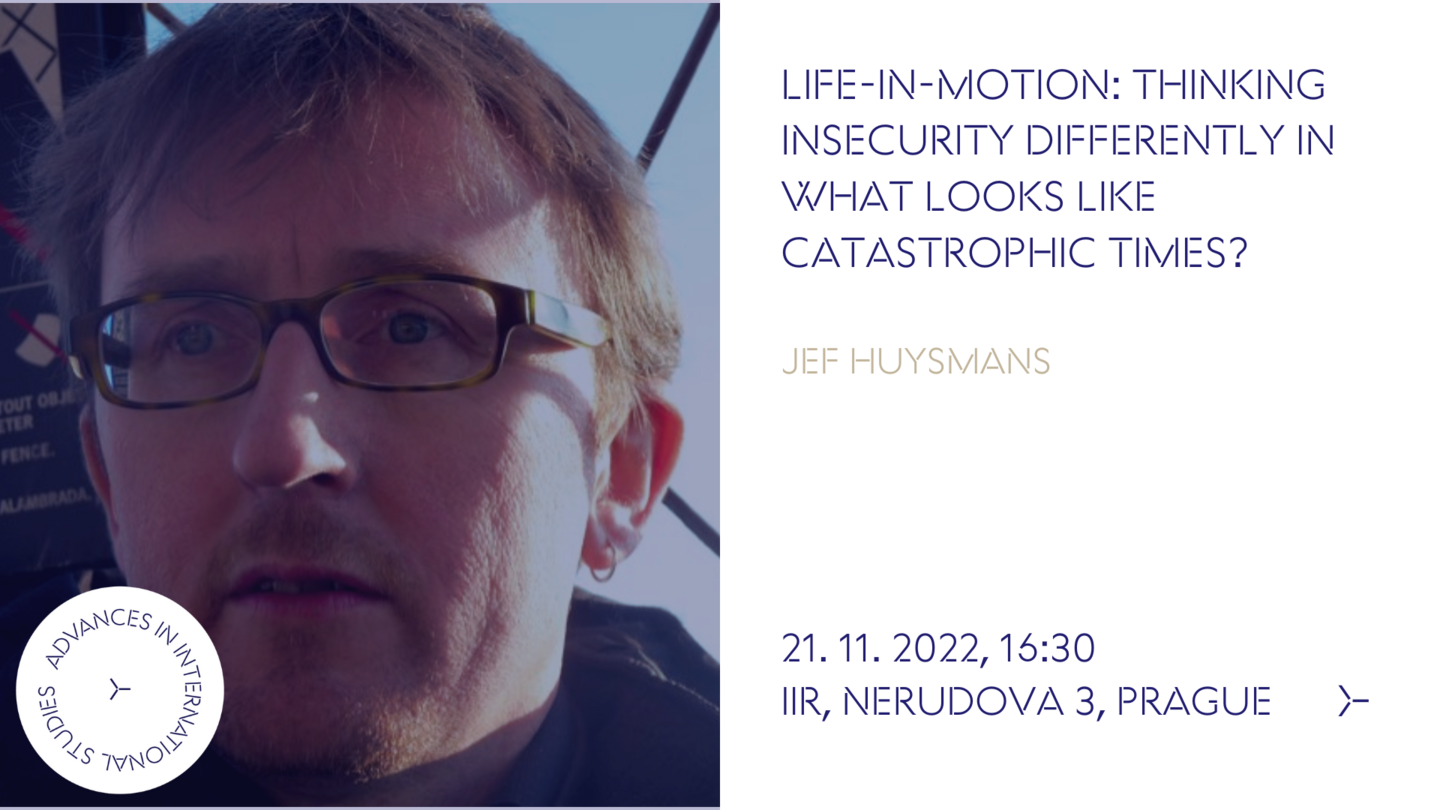 Life-in-motion: thinking insecurity differently in what looks like catastrophic times?
We would like to cordially invite you to a lecture "Life-in-motion: thinking insecurity differently in what looks like catastrophic times?" which is part of our series Advances in International Studies. In light of current global challenges, Jef Huysmans will present an alternative approach toward insecurity.
21. 11. 2022 (16:30)
Language: English Institute of International Relations, Nerudova 257/3, Prague
The Covid-19 pandemic, the war in Ukraine, and climate change strongly assert that politics, whether global, international, or planetary, are defined by struggles for survival. In each of these cases, delivering security intensely operates as the first and main objective of politics. Borders close to an unseen extent to protect human life from a global pandemic. European politics is being redefined through militarised geopolitical fears of threats to state survival. Calls for planetary politics continue to intensify in reference to life on earth heading toward a catastrophic collapse. Security seems to truly be the baseline of contemporary political order. However tempting such a conception of politics is today, the lecture seeks to introduce an alternative way of thinking that does not make existential endings the defining point of view of social and political life. Rather than defining life as life-unto-death, it proposes to engage with the Covid-19 pandemic, a revival of existential geopolitics and planetary degradation by taking life as always in motion. The concept of life-in-motion experiments with a critical analysis of insecurities that takes us beyond securitization and towards analytics of the becoming of insecurities.
Jef Huysmans is a Professor of International Politics in the School of Politics and International Relations at Queen Mary, University of London. He co-convenes the research cluster Doing International Political Sociology. He is best known for his work on the politics of insecurity, the securitization of migration, critical methods, and international political sociology. Currently he is working on an international political sociology of fracturing worlds and motioning the politics of (in)security. He has published widely in leading journals in international studies, politics, and European studies. He is author of Security Unbound. Enacting Democratic Limits  (Routledge, 2014), The Politics of Insecurity. Fear, Migration and Asylum in the EU. (Routledge 2006); and What is Politics? (Edinburgh University Press, 2005). 
ADVANCES IN INTERNATIONAL STUDIES
This seminar is part of Advances in International Studies is the IIR's flagship series of academic talks. We invite both established and emerging scholars who make a novel or unfamiliar contributions to our understanding of global politics. Each session will consist of an introductory talk and will be followed by an open discussion in a seminar setting.
To participate, please register below.