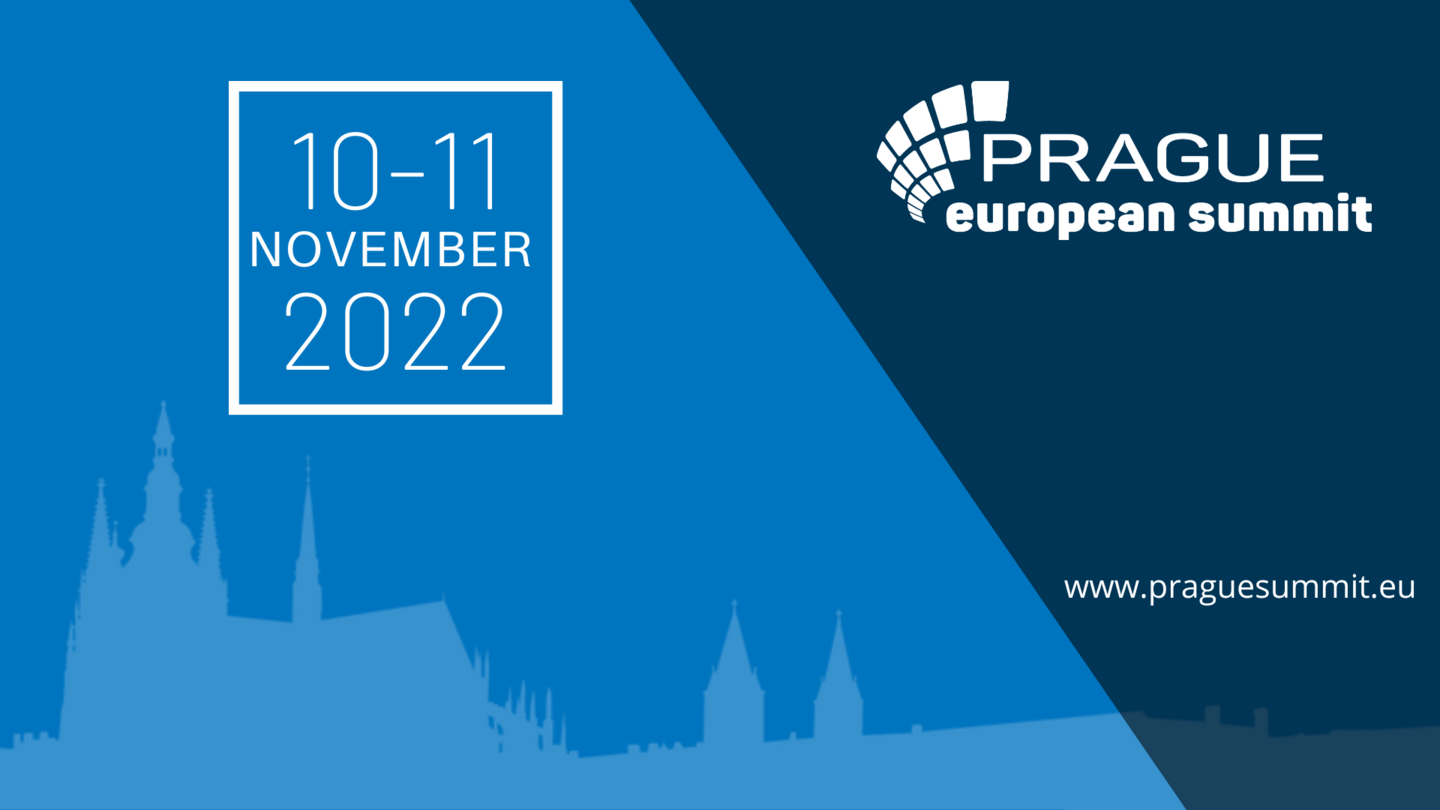 Prague European Summit 2022
Together with EUROPEUM Institute for European Policy, we gladly invite you to the seventh annual Prague European Summit - this year under the motto "Leading the Green & Digital Future?"
10. 11. 2022 (14:30)
Language: English Lichtenstein Palace, U Sovových mlýnů 506/4, 118 00 Malá Strana
During Prague European Summit 2022 we will discuss three key topics: Green & Digital Transformation, Energy Security and Economic Resilience.
This year we are having on board a number of experts from the academic, business and media spheres as well as policymakers and politicians, such as:
Věra Jourová, European Commission Vice-President for Values and Transparency
Naser Nuredini, Minister of Environment and Physical Planning, North Macedonia
Vessela Tcherneva, Deputy Director of the European Council on Foreign Relations and head of ECFR's Sofia office
Szymon Byliński, Director of the Department of Electromobility and Hydrogen Economy at the Ministry of Climate and Environment, Poland
Traian Urban, Director, EIT Urban Mobility
Ivan Bartoš, Deputy Prime Minister for Digitisation and Minister of Regional Development, Czech Republic
Rob Cameron, BBC Prague Correspondent
Desiree Rückert, Economist, European Investment Bank
Joanna Flisowska, Senior Climate & Energy Analyst, Instytut Reform
...and many more.
Registrations are now closed. For last minute registrations please email registration@praguesummit.eu 

Find out more about the programme!
Prague European Summit was founded in 2015 by the EUROPEUM Institute for European Policy and the Institute of International Relations under the umbrella of the Czech Ministry of Foreign affairs with an aim to recast the image of the Czech Republic as an EU member country which self-confidently, yet constructively joins the strategic discussions on the course of the European Union. Since then, it has grown to a high-level discussion policy forum which regularly brings together more than 500 senior politicians, political commentators, think-tankers, business representatives, public figures, young leaders and members of the public from around the world, discussing and searching for solutions to problems of today and building the Europe of tomorrow.
Co-organizers
EUROPEUM Institute for European Policy