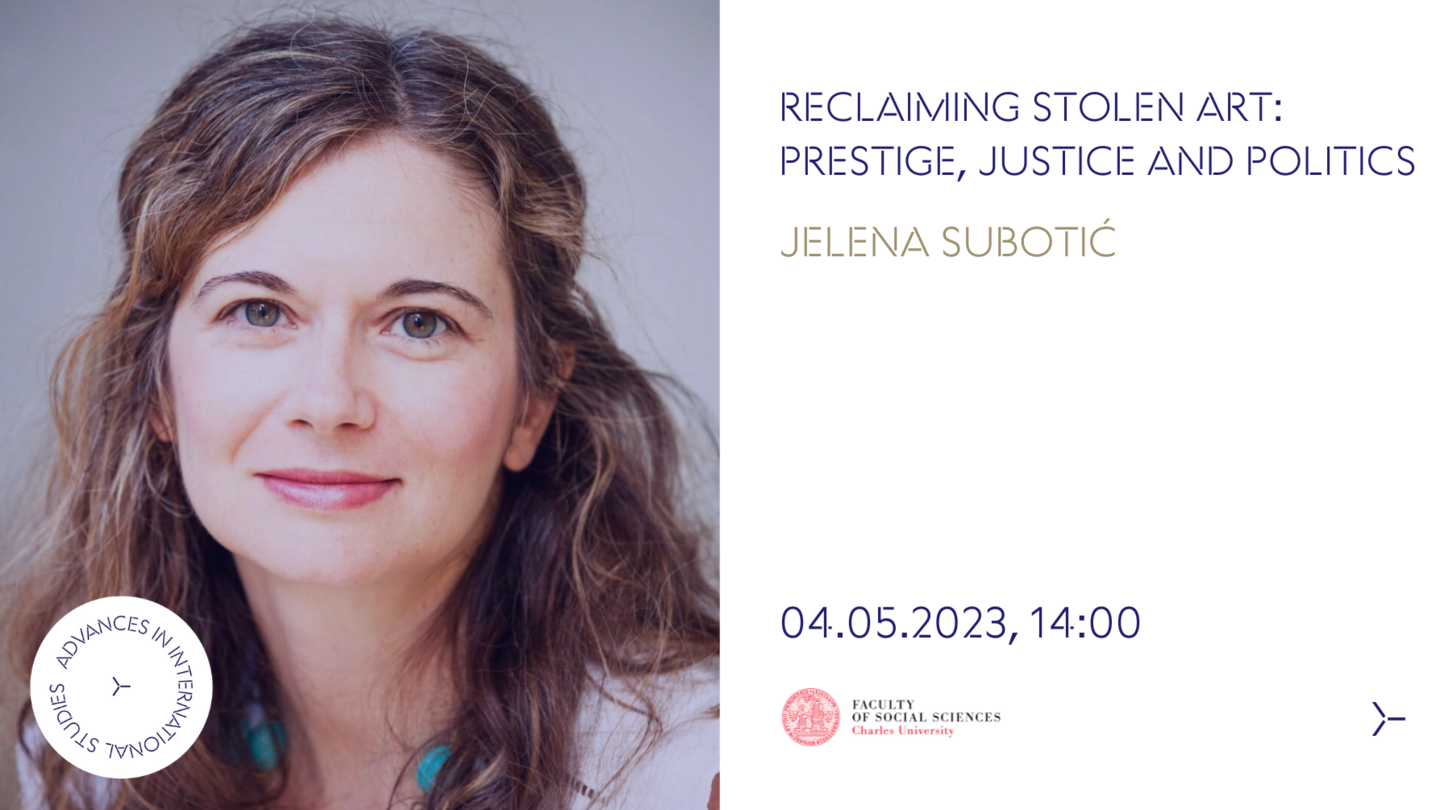 Reclaiming Stolen Art: Prestige, Justice and Politics
It is our great pleasure to host one of the best-known scholars of memory politics, human rights and transitional justice – Jelena Subotić. In her talk, she will explore the international politics of restitution of art looted during colonial occupations and during the Holocaust. The event is a part of Advances of International Studies series, and is organised together with Faculty of Social Sciences, Charles University in Prague.
4. 5. 2023 (14:00)
Language: English Institute of International Relations Prague, Nerudova 257/3
Join us for a thought-provoking discussion on the complex politics of art restitution and its impact on the international status of nations. Based on her new book project, Jelena Subotić will delve into the intricate relationship between the restitution of looted art and its role in shaping national identity and global power dynamics. Drawing on case studies of the Parthenon Marbles, the Benin Bronzes, and a collection of Holocaust-looted paintings, Jelena Subotić will explore the varied historical contexts of ownership claims, and the movements for their restitution. Do not miss this opportunity to gain new insights into the politics of cultural heritage, and its implications for international relations.
Jelena Subotić is a Professor in the Department of Political Science at Georgia State University. She received a PhD in Political Science from the University of Wisconsin-Madison. Jelena's research on human rights, post-conflict reconciliation, identity politics, Europeanization and the Balkans has been published in numerous academic and public policy journals. She is a frequent commentator on war crimes and the politics of the Balkans for CNN, BBC, and other international outlets.
Yellow Star, Red Star: Holocaust Remembrance after Communism (Cornell University Press, 2019)
Hijacked Justice: Dealing with the Past in the Balkans (Cornell University Press, 2009)
Advances in International Studies is the IIR's flagship series of academic talks. We invite both established and emerging scholars who make novel or unfamiliar contributions to our understanding of global politics. Each session will consist of an introductory talk and will be followed by an open discussion in a seminar setting.
Co-organizers
This event is organised in cooperation with Faculty of Social Sciences, Charles University in Prague.