23/08/2016
This content is not up to date
The Inner Losing Combat in Malaysia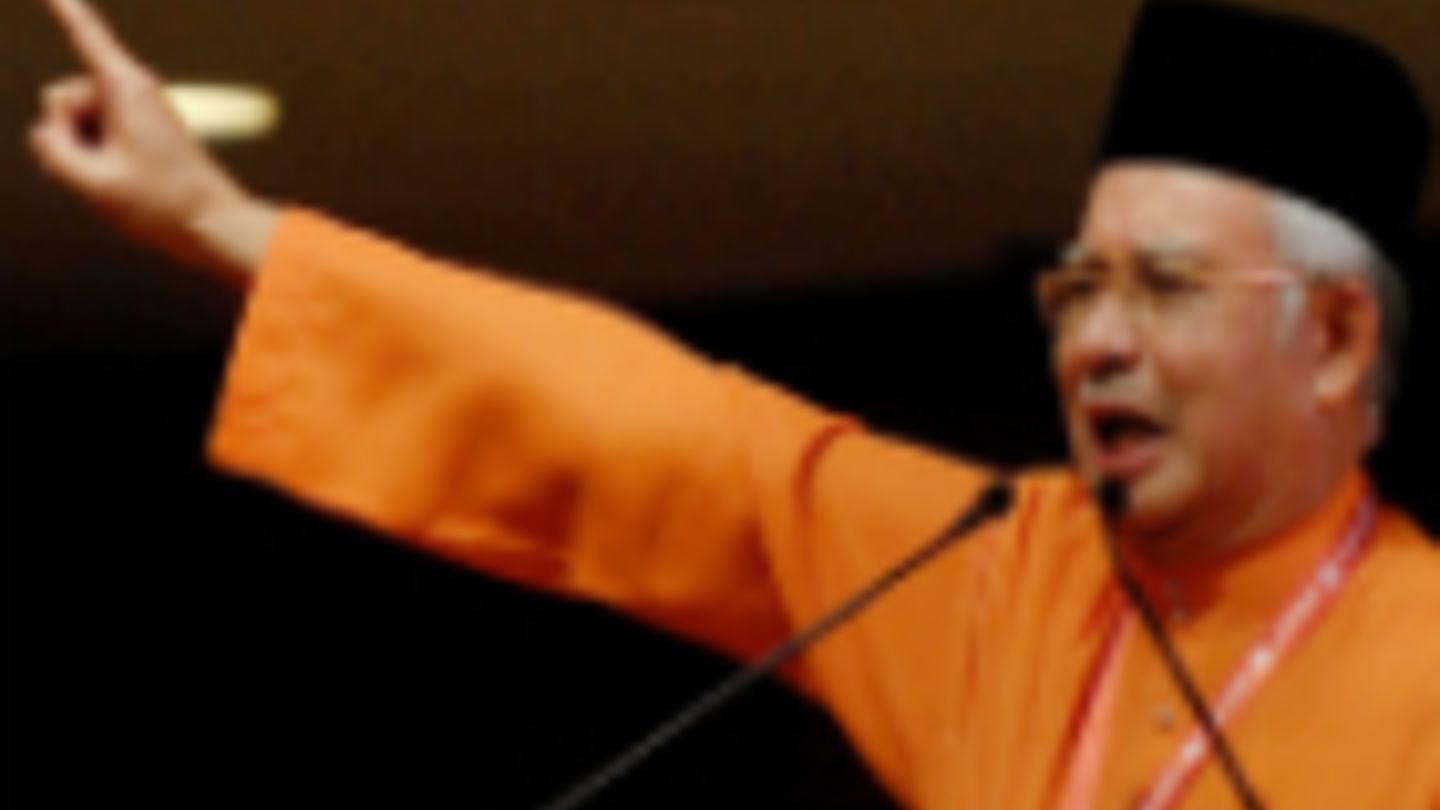 The contemporary political situation in Malaysia has been undergoing such a reversal. However, it is necessary to bear in mind that the possible transformation and changes are going to take place within political elites; not towards citizens predominantly as one may wrongly expect after Najib Razak's financial mishap when receiving a jolly substantial amount of money from the 1MDB national fund (losing approx. £2,66bn) which had been created for country development objectives.

Current PM of Malaysia Najib Razak. Source: Firdaus Latif - UMNO, CC BY-SA 2.0
Malaysia lies in a greatly unforeseen milieu thanks to the ongoing political duel amongst the current PM, Najib Razak, and his predecessor, Dr Mahathir, often labelled simply as Dr M due to his medical educational background from youth. As stated by Dr M on 14 July 2015, he plans to create his own political party which shall become a part of a brand new opposition coalition block (together with DAP, Parti Amanah Negara, and PKR) against the ruling UMNO whose foremost exponent Dr M used to be the PM for in the years of 1981–2003.
First things first. Whilst serving as the PM formerly, Dr Mahathir still arouses concerns because the period of his governing is one of the most inquired, and characterised by many more or less inconsistent terms such as for instance "soft-authoritarian semidemocracy" or "distinct authoritarianism". On the contrary, the opening phase of Najib's rule followed the steps of the previous PM, Abdullah Ahmad Badawi, whose restrained type of politics had caused the BN's weakening and left the country rather in a political tangle. Najib Razak's disputes over the right governance with Dr M has escalated after the financial disgrace in the matter of 1MDB. Albeit, it is not the first time of this type of dishonour in Malaysian history, Najib "can't afford it" these days as expressed by Rafizi Ramli (PKR) for Malaysiakini.
What kind of a political duel are we about to witness?
There are already three possible outcomes in compliance with a winner: Dr M, Najib Razak, or Both. But what if no one actually prevails?
Are there any possible scenarios for the upcoming period? There are at least elemental three of them, and they are being based on the next GE, indeed. First, if Najib Razak's BN loses, Dr M shall not only celebrate the victory, but he will be given an opportunity to get rid of his bête noire. The first opening question in here is whether to remain in the opposition coalition or rather to seize control over the BN and UMNO, too. Obviously, even the notion of BN as a defeated party sounds absolutely inconceivable at the moment, nevertheless Dr M represents a crucial connection to his own ancien régime and may be seen as the blameless and irreproachable one, unlike Najib nowadays.
Although, foreign political commentators or experts contradict that Dr Mahathir was considered to be an overly severe PM. Notwithstanding these studies, and leaving aside Dr M's policy during his ruling period until 2003, Mahathir could be enjoying even a vaster extent of power. The following question is regarding the age of Dr M. For how long is he going to be able to rule? With respect to him and his strength, every human grows older, and so the closing double-question may be asking whether his age may be appraised as an advantage or quite the opposite, and what happens afterwards, i.e. when he steps down once?
Dr M may return as a severe Redeemer
Will political return of Dr M do Malaysia good since no commentators are available to predict how or for how long shall his power impact?
Second, reversely, Najib Razak, who has already declined to surrender and yield up his office, and his victory may truly wreck the opposition coalition and the opposition parties as well. It is less likely to happen whilst the regime is not strong and forcible enough to manipulate electoral outcomes anymore as the previous GEs had proved. And so had the moderate policy of Najib's. Is there a hope for him? Of course, there is, but one may call it a losing battle, though, particularly since tightening the regime's structure and so any attempts leading to a more stringent rule may not to be tolerated so easily in his case.
The other option is, on the other hand, to open the politics to people a bit more visibly which seems to be in Najib's eyes less germane than at the beginning of his rule. If the current PM, however, doesn't display more skilfulness, this electoral term will yet be the last one for him because the BN may demonstrate its reluctance to be run by Najib Razak for good. If not the BN, the other international stakeholders, and the media indeed, may make it their business and come to an end. And according to the latest updates from 21 July 2016, this concluding assumption has been happening along. Randeep Ramesh described the financial scandal in Malaysia as "the biggest one in the world" in his newest article for Australian Edition of The Guardian.
Usage of stolen money
The US investigation commission and Malaysian rallies do not wish to forgive, nor excuse Najib's misbehaviour since first official reports have mentioned the usage of stolen money. Thus, buying Monet and other goods may not aid Najib's reputation either.
Simultaneously, there is the golden mean. The parties and two blocks of political parties both remain, and the newly created opposition-to-be substitutes the previous abortive tries to form a strong and decent opposition coalition. And so the country may be directed in the manner of its former imperial head, the United Kingdom, i.e. the country is chiefly divided in accordance with the bipartial system. Albeit this may signify a stabilisation for the country, there is another indispensable issue to note. The political parties of Malaysia are being split on the ethnical basis which does not stand for a problem itself, nonetheless, except for economical themes, what shall be the main political subject for parties then?
Since the restoration time and independence, so called merdeka, of M'sia, the UMNO has been represented as the block which united the ethnic groups at all, whereas the opposition block has not been able to push it through this way to date. Alongside, one must realise that Dr Mahathir's political instruments had consisted of ethics and economy a priori. Another striking point is whether is Dr M still capable of engaging voter's attention and interest and when approximately one may expect to observe Mahathir's new opponents, as for example Anwar Ibrahim appeared in the 90s. Thus it is not astonishing that consequently, political parties will have to be oriented to populism gradually instead of previous issues as parties used to sponge on. And only powerful officials in both blocks may postpone this next more negative scenario of populism.
Break the deadlock
The means to break the deadlock do exist as shown. None of them may be classed as efficacious or beneficial, though.
There is simply no way of a thriving ending. Malaysia is strongly in need of a conspicuous and mighty leadership since the country has got stock in a mixture of political anxiety. Unfortunately, this state of affairs results in international incomprehension and may be more negatively influential soon concerning the economy, good reputation, and trade itself, and so especially if the foreign media keeps referring to M'sia as the country with the financial scandal as presently.
Malaysia symbolises a substantial economic player and will require a younger or at least an efficient leader sooner or later, no matter how conservative the population may be. Without a profound personnel alternation afterwards, the country might be more significantly enfeebled. Exactly as the future, even this articles queries and brings a lot of unanswered questions. And hence, when the time of GE comes, let the optimal alternative vanquish.
Bibliography
Azhar, Alyaa. 2016. Rafizi: Mahathir lost more than RM42b, but Najib can't afford this. Malaysiakini.
Link: https://www.malaysiakini.com/news/330794
Huntington, Samuel P. 1991. "Democracy's Third Wave." Journal of Democracy 2 (2), 12–34.
Link: http://www.ou.edu/uschina/gries/articles/IntPol/Huntington.91.Demo.3rd.pdf
Brownlee, Jason. 2009. "Portents of Pluralism: How Hybrid Regimes Affect Democratic Transitions." American Journal of Political Science 53 (3), 515–532.
Link: http://onlinelibrary.wiley.com/doi/10.1111/j.1540-5907.2009.00384.x/pdf
Caballero-Anthony, Mely. 2005. "Political Transitions in Southeast Asia." Southeast Asian Studies 3 (1), 24 –44.
Link: http://muse.jhu.edu/login?auth=0&type=summary&url=/journals/southeast_asian_affairs/v2005/2005.caballero-anthony.pdf
Case, William. 2001. "Malaysia's Resilient Pseudodemocracy." Journal of Democracy 12 (1), 43–57.
Link: https://muse.jhu.edu/login?auth=0&type=summary&url=/journals/journal_of_democracy/v012/12.1case.html
Eldridge, Philip J. 2002. The Politics of Human Rights in Southeast Asia. London, New York: Routledge
Ramesh, Randeep. 2016. Inside 1MDB. The Guardian.
Link: https://www.theguardian.com/world/2016/jul/28/1mdb-inside-story-worlds-biggest-financial-scandal-malaysia
Reilly, Benjamin. 2013. "Southeast Asia: In the Shadow of China." Journal of Democracy 24 (1), 156–164.
Link: http://muse.jhu.edu/journals/jod/summary/v024/24.1.reilly.html
Welsh, Bridget. 1996. "Attitudes Towards Democracy in Malaysia: Challenges to the Regime?" Asian Survey 36 (9), 882–903.
Link: http://www.jstor.org/stable/2645537
About the author:
Mgr. Martin Petlach is currently a PhD candidate in Comparative Politics whilst reading at Palacky University in Olomouc, Czech Republic. His research interests concern politics of Malaysia, Spain, and non-democratic regimes.