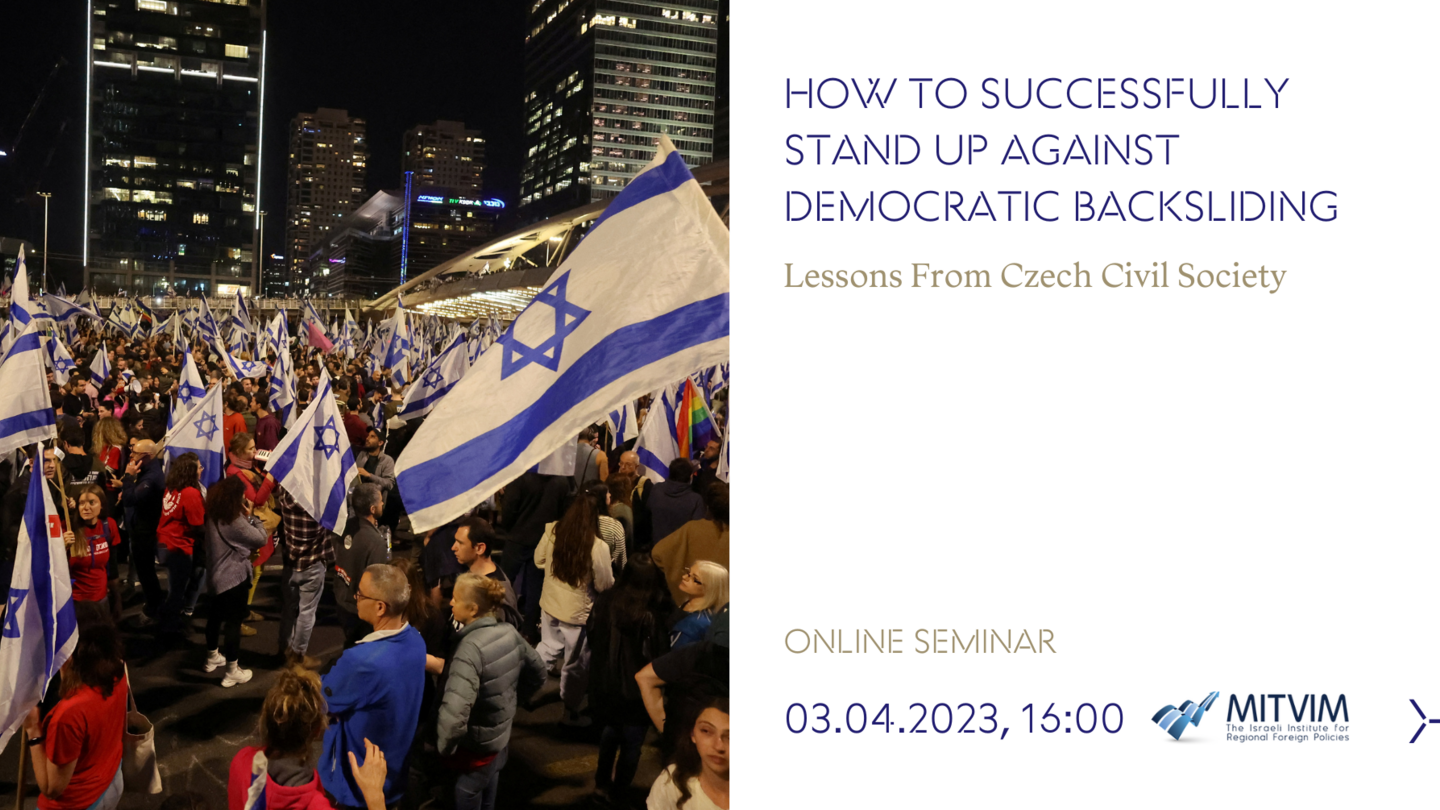 (ONLINE) How To Successfully Stand Up Against Democratic Backsliding - Lessons From Czech Civil Society
The Institute of International Relations Prague, together with Mitvim - The Israeli Institute for Regional Foreign Policies, cordially invite you to an online webinar titled: 'How To Successfully Stand Up Against Democratic Backsliding - Lessons From Czech Civil Society'.
3. 4. 2023 (16:00)
ZOOM (link will be sent upon registration)
Since the formation of Netanyahu's new government, the liberal-democratic foundations of Israel have been under constant attack. The planned judicial overhaul threatens to sabotage the independence of the judiciary, and weakens its overseeing capacity after the executive and legislative branches; all while increasing and encouraging the governing coalition's power grab. In addition to undermining the separation of powers, the new government carries on with unbridled assaults against the media, the academy, civil society organizations, and minorities. This new reality shatters Israel from within and has decisive consequences for its economy, security, international standing, and relations with the democratic-liberal bloc.

Following the zeitgeist surrounding Israel's democratic backsliding, many comparisons were made with Hungary, Poland, and Turkey, which managed to profoundly damage their liberal-democratic cores. However, some countries faced the same challenge and remained successful in preserving their liberal-democratic regime. The Czech case study is an excellent example of a determined civil society confronting the democratic backsliding led by Prime Minister Babiš. Therefore, the panel will cover the success stories of civil society organizations in the Czech Republic and what can be learned from them. The panel will introduce the reasons for the democratic erosion and elaborate on the various practices through which Babiš worked to crumble the Czech democratic backbone. Finally, it will draw lessons from the activities of "Million Moments for Democracy," and other civil society organizations, which cultivate and foster democratic culture, civic participation, and transparency.
Speakers:
Petra Guasti - Associate Professor of Democratic Theory, Charles University in Prague
Karel Kouba - Associate Professor of Political Science, University of Hradec Králové
Jaromír Mazák - Sociologist and Director of Research, STEM

The seminar will take place on Zoom, where participants can actively join the debate. To participate and obtain the ZOOM link, please register below.