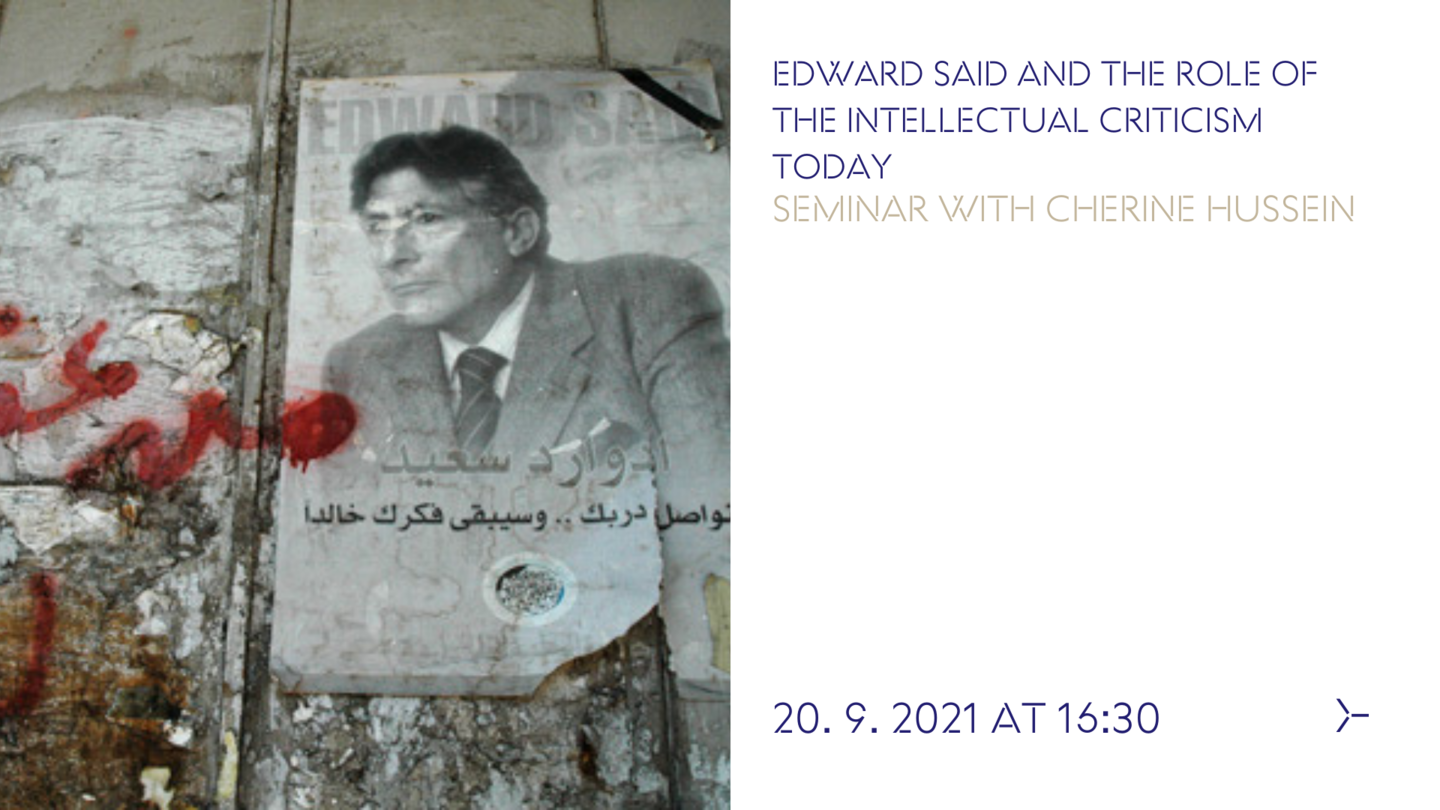 Edward Said and the role of the intellectual criticism today: Seminar with Dr. Cherine Hussein
The Institute of International Relations is happy to invite you to a seminar "Edward Said and the role of the intellectual criticism today" with Dr. Cherine Hussein, a senior researcher at IIR and expert on politics in the Arab World and decolonial thought.
20. 9. 2021 (16:30)
Language: English Nerudova 3, Prague
What role can the intellectual play in understanding politics and the political today? We will discuss Edward Said's images of the intellectual and his method of secular criticism. Although Said's work was multidisciplinary in nature, the method of secular criticism is a common thread tying together his diverse contributions to the social sciences and humanities. The way Said approaches history through the nexus of knowledge and power can serve as a useful tool for political praxis. The talk will touch upon the links between Said's own writings and his political awakening. Connecting this to a contemporary struggle of resistance, the seminar will conclude by commenting on how Said's worldview, and commitment to always speak the truth to power, led to his championing of binationalism and equal rights and citizenship as the way forward towards justice in Palestine/Israel.
Dr. Cherine Hussein is a Senior Researcher at the Institute of International Relations in Prague in it's Centre for the Study of Global Regions in the Middle East and North Africa Politics Unit. Her research focuses on the politics of social transformation in the Arab World, with a particular interest in the writings of Antonio Gramsci and Edward Said; Jan Daniel, Head of the Centre for the Study of Global Regions at IIR, will chair the seminar. Pavel Barša, professor of political science at Charles University, will join the discussion.
Prior registration is required.
Hygiene precautions due to Covid-19:
On the basis of an emergency measure issued by the Ministry of Health of the Czech Republic, entry to the event premises is possible only after presentation of a certificate of infection-free status:
vaccination against covid-19 disease.
- after the second dose has been administered for at least 14 days
- after application of the single-dose regimen for at least 14 days
RT-PCR (PCR) test with negative result not older than 7 days
POC (antigen test) test with negative result not older than 72 hours
Passage of covid-19 disease, laboratory confirmation not older than 180 days
Attention - self-tests and affidavit are not sufficient.
Visitors are requested to wear respiratory protective equipment (FFP2 or KN95 respirator) throughout the event.
Thank you in advance for respecting all necessary rules and we look forward to seeing you.
Report on Edward Said and the role of the intellectual criticism today: Seminar with Dr. Cherine Hussein