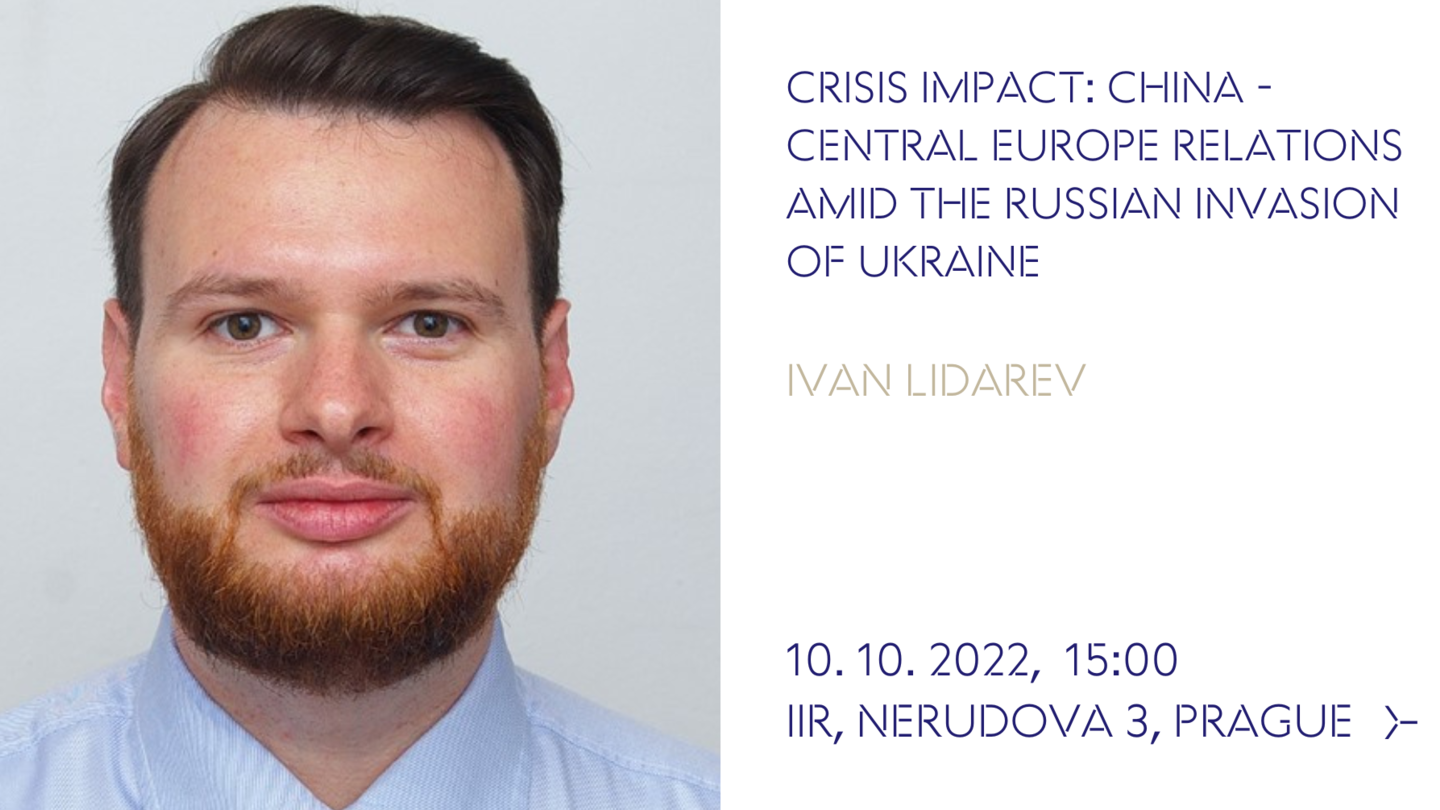 Crisis Impact: China - Central Europe relations amid the Russian invasion of Ukraine
We would like to cordially invite you to a seminar examining the China-Central Europe relations amid the Russian invasion of Ukraine and the crisis it is producing in those relations. The seminar by Ivan Lidarev, Think Visegrad visiting fellow at our Institute, will look at the impact of China's pro-russian neutrality for the future of the Visegrad Four and make policy-recommendations.
10. 10. 2022 (15:00)
Language: English Institute of International Relations, Nerudova 257/3, Prague
The Russian invasion of Ukraine has produced a crisis in China-Central Europe (CE) relations. China's pro-Russian neutrality in the conflict has added to Visegrad Four (V4)'s growing frustration with Beijing's coercive tactics and its disappointing economic and investment record in the region, on the background of the accelerating US-China Cold War. To understand the impact of this crisis on China-CE relations it is imperative to understand three critical questions.First, how do different V4 countries see China in the new international circumstances created by the Ukraine war? Second, how will Beijing's policy toward V4 countries change in response to the war and the backlash China has faced? Third, how this new situation will reshape V4's approach to China on the long run?
On this basis, the presentation will outline the policy choices on China with which the war faces V4 governments, and especially the Czech government, and make policy recommendations. Among these choices, one stands out as both imminent and consequential. In the coming months, CE will have to decide whether to keep confronting Beijing for its pro-Russian position, on principle or in the distant hope of modifying it, or engage China, newly accommodating in its drive to salvage relations, in the face of growing economic difficulties.
Ivan Lidarev is a foreign policy analyst and expert on Asian security and the international relations of China and India. He is currently the Think Visegrad visiting fellow at the Institute of International Relations Prague (IIR). In 2021 he obtained his PhD in International Relations and Political Science from King's College London. Dr. Lidarev has served as advisor at Bulgaria's National Assembly (2014-2017), Graduate Teaching Assistant at the Defence Academy of the United Kingdom (2018-2019), and Associate Editor of E-International Relations (2015-2016). He boasts a rich think tank experience, most recently serving as visiting fellow at New Delhi's Observer Research Foundation (ORF). Dr. Lidarev has also been selected as Young Leader at the GLOBSEC Forum (Bratislava, 2016 and 2017), Tatra Young Professional at the Tatra Summit (Slovakia, 2018), Young European China Talent at The Mercator Institute for China Studies, (Berlin, 2018), and New Security Leader at the Warsaw Security Forum (Warsaw, 2021).
This event is chaired by the IIR Senior Researcher Alica Kizeková.
The research is based on a Think Visegrad fellowship funded by V4 collaboration.
To participate please register below.