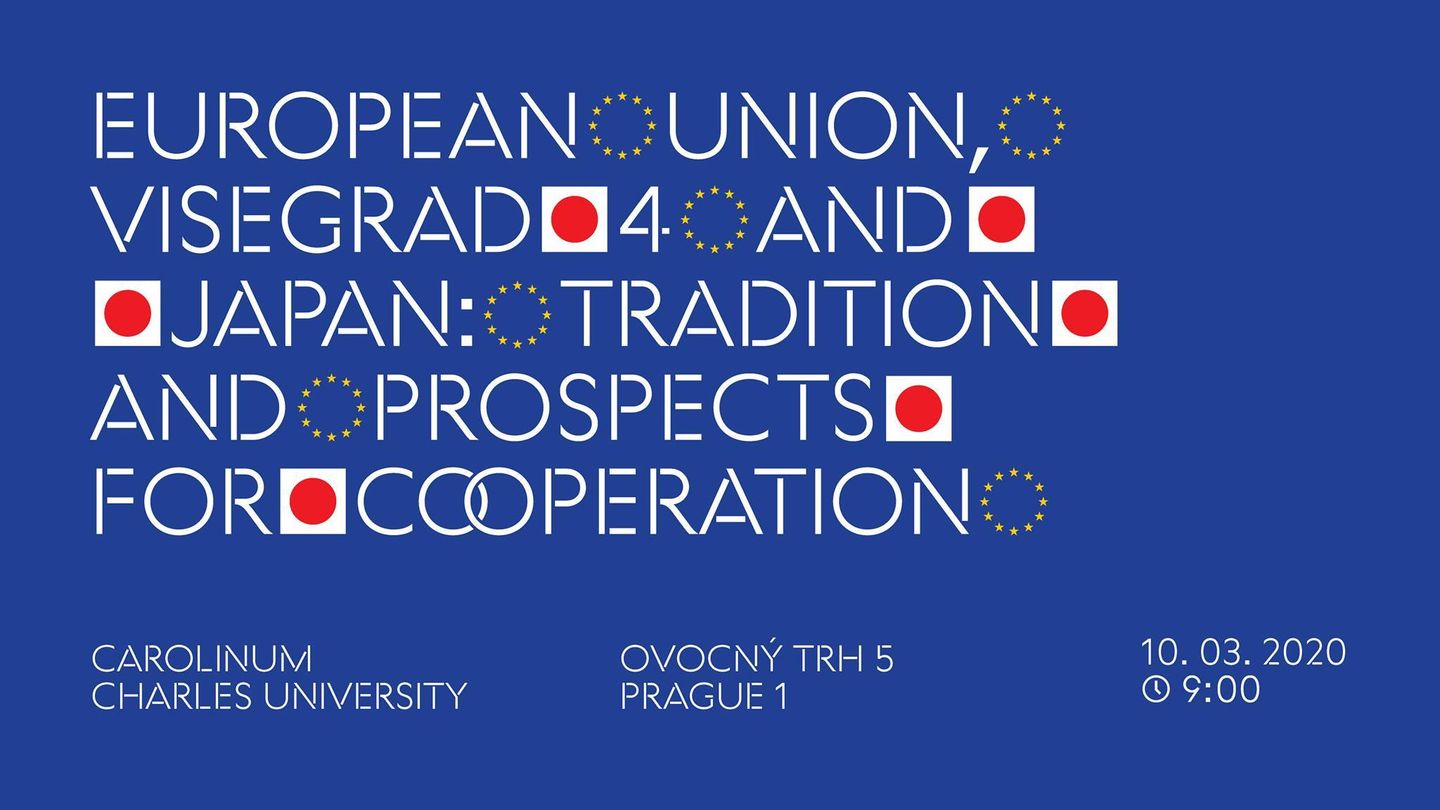 European Union, Visegrad 4 and Japan: Tradition and Prospects for Cooperation
The IIR was pleased to invite you to the one-day international seminar focused on the tradition and cooperation between Europen Union and Japan, including also the Central and Eastern Europe (CEE). It took place on March 10th in Karolinum, Ovocný trh 560/5, 110 00, Prague - Stare Mesto.
10. 3. 2020 (9:00)
Carolinum, Charles University in Prague, Ovocný Trh 5, Prague 1
This seminar was held at the occasion of the 100th anniversary of establishing the diplomatic ties between Czechoslovakia and Japan, and on the Czech V4 Presidency. The key idea was to promote dialogue and cooperation between Japan, EU and V4 states in the multilateral and regional context, and to address the key issues for deepening mutual knowledge and communication.
The seminar was organized into two panels attended by Japanese as well as Central Europen scholars, diplomats, and media professionals.
Day 1

10/03/2020
OPENING REMARKS
Kaoru Shimazaki
Ambassador of Japan to the Czech Republic
Moderator: Ondřej Ditrych
Director of the Institute of International Relations Prague
PANEL 1: EU-Japan Economic Partnership Agreement (EPA) and EU-Japan Strategic Partnership Agreement (SPA) as the framework for strengthening EU-Japan ties.
Yukari Akeda
Lecturer, Dokkyo University, Japan: Re-crafting EU-Japan Cooperation
Hiroyuki Akita
Commentator and Journalist, Nikkei - Asian Review, Japan
Takashi Hosoda
Associate Researcher, Charles University Prague
David Hutt
columnist at the Diplomat and correspondent for Asia Times
Moderator: Rudolf Fürst
Head of the Centre EU – Asia Relations, Institute of International Relations Prague
PANEL 2: Visegrad 4 and Japan: Perspectives and developments
Michal Kolmaš
Assistant Professor, Metropolitan University Prague, Czech Republic
Kaoru Natsuda
Professor, College of International Management, Ritsumeikan Asia Pacific University (APU), Japan; Visiting Professor, Budapest Business School, Hungary
Robert Vancel
Research Fellow, Central European Institute of Asian Studies, Slovak Republic
Moderator: Jan Sýkora
Associated Professor, Institute of Asian Studies, Charles University in Prague, Czech Republic
FINAL REMARKS AND DISCUSSION
Video 1
Video 2
Video 3
Video 4
Video 5
Auspice
Embassy of Japan in the Czech Republic