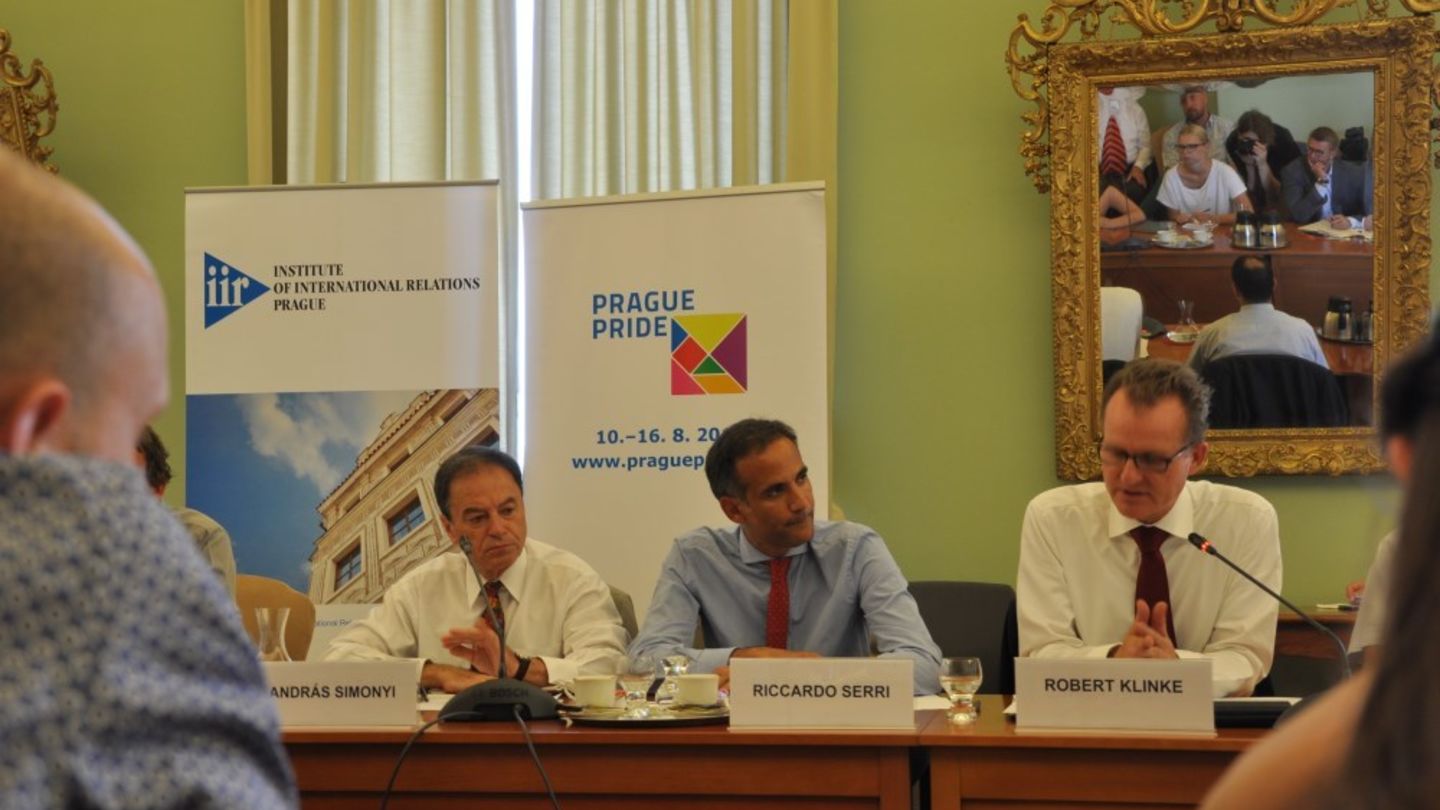 LGBT in Foreign Policy and Practice
The Institute of International Relations in cooperation with Prague Pride and the Ministry of Foreign Affairs of the Czech Republic organized a panel discussion "LGBT in Foreign Policy and Practice".
14. 8. 2015 (14:00)
14:00 - 16:00 Mirror Hall, Czernin Palace, Loretánské náměstí 5, Prague 1
The current debates about LGBT rights are characterized by two major tendencies: On the one hand, LGBT rights have been spreading on a global scale, and this includes their spreading to many countries of the Global South such as Brazil or South Africa. On the other hand, the LGBT agenda continues to be defined by Western human rights activists and Western NGOs. The tension between the global appeal of LGBT rights and their rootedness in Western political thinking and social transformations gives rise to some questions which are highly relevant for foreign policy-making and for the role national diplomacies can play in shaping the global LGBT agenda.
Speakers included:
Host:

András Simonyi

, Managing Director of the Center for Transatlantic Relations at the School of Advanced International Studies at Johns Hopkins University

Petr Drulák

, Political Secretary of the Ministry of Foreign Affairs of the Czech Republic

Daniel Ernst

, First Secretary and Press Attaché, the U.S. Embassy in Prague

Robert Klinke

, Deputy Head of Mission, Embassy of the Federal Republic of Germany in Prague

Riccardo Serri

, Deputy Head of the Human Rights Strategy and Policy Implementation Division in the European External Action Service
The questions, which were also discussed during the discussion panel:
How can Western diplomats positively influence the rights of LGBT minorities in the global South and East without falling into the trap of neo-colonialism and patronising attitudes?
What are some concrete examples of such practices?
To what extent can diplomats support local initiatives in regard to this matter (especially when they may have come up with different narratives about what it means to be LGBT)?
In your experience, does the distinction between the West and the non-West make sense as far as LGBT rights are concerned today?
Based on your experience, is it better to treat LGBT rights in the general context of human rights, or as a special topic that may not be as sensitive as human rights on the whole? Is the connection between the LGBT agenda and gender issues useful in this context?
How can we differentiate between the fight against homophobic sentiments among the population and the fight against anti-LGBT legislation? What are the best avenues for changing the population's sentiments, and how can we influence the legislation?
Auspice
Prague Pride, Ministry of Foreign Affairs of the Czech Republic