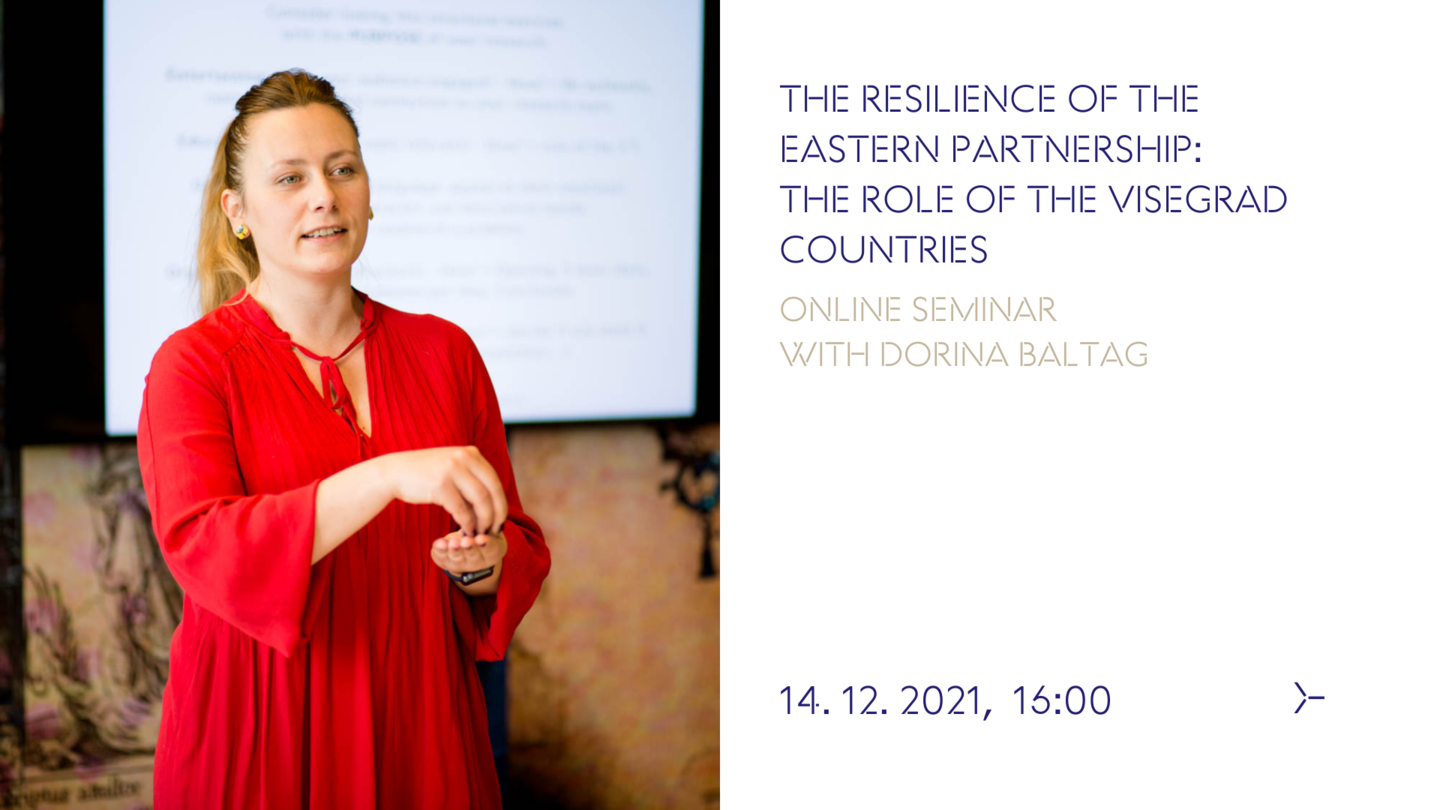 The Resilience of the Eastern Partnership: The Role of the Visegrad Countries (ONLINE)
The Institute of International Relations is cordially inviting you to attend an online seminar that is a part of the Think Visegrad Fellowship. Dr. Dorina Baltag will present her study and solicit feedback and suggestions from participants, which will be reflected in her policy paper. Everyone interested in the EU Neighbourhood Policy, particularly the Eastern Partnership initiative, and the Visegrad countries, is invited to participate in the lively debate.
14. 12. 2021 (16:00)
Language: English Zoom and IIR Facebook
Can a policy, such as the Eastern Partnership (EaP), embrace the capacity to change and adapt, and the possibility to re-engineer itself based on a learning process? Many of the criticism that the European Union has received regarding its external action in its Eastern neighbourhood are in relation to policy resilience, i.e., are EU's instruments fit for purpose. The issue of EU's international actorness is distressing due to developments in its 'neighbourhood' such as the crisis in Ukraine or Moldova's downturn from success story to a captured state, the slow pace of progress and even back-sliding in Armenia or Georgia or the recent human rights violations in Belarus. To understand the EaP's potential flexibility and forward-looking quality, this seminar will unpack the Visegrad as a policy learning environment and discuss whether Visegrad countries became EaP policy entrepreneurs to ensure 'deep and sustainable' democracy in post-communist countries such as Moldova, Ukraine, or Belarus.
Host: Petr Kratochvíl, Senior Researcher, Institute of International Relations

Presenter: Dorina Baltag, Think Visegrad Fellow, Institute of International Relations

Discussant: Pavel Havlíček, Researcher Fellow, Association for International Affairs
Dr Dorina Baltag is currently visiting the IIR-Prague under the Think Visegrad Fellowship scheme. She is a post-doctoral researcher at IDIG: the Institute for Diplomacy and International Governance at Loughborough University London campus, appointed as result of the Excellence 100 Doctoral Prize awarded to her. Her research focuses on the diplomatic performance of the European Union (with case-studies in Eastern Europe) as well as EU's democratization agenda in Eastern Partnership countries. Her work has been published, in among others, in the Global Affairs, Democratization, the Hague Journal of Diplomacy, Studia Diplomatica, East European Politics.

The seminar will take place on Zoom, where participants may actively join the debate. The seminar will be live-streamed on our Facebook page too.
Zoom link: https://us02web.zoom.us/j/89335390201

Feel free to share with other colleagues that might be interested in this seminar.

To participate, we would like to ask you to register below.