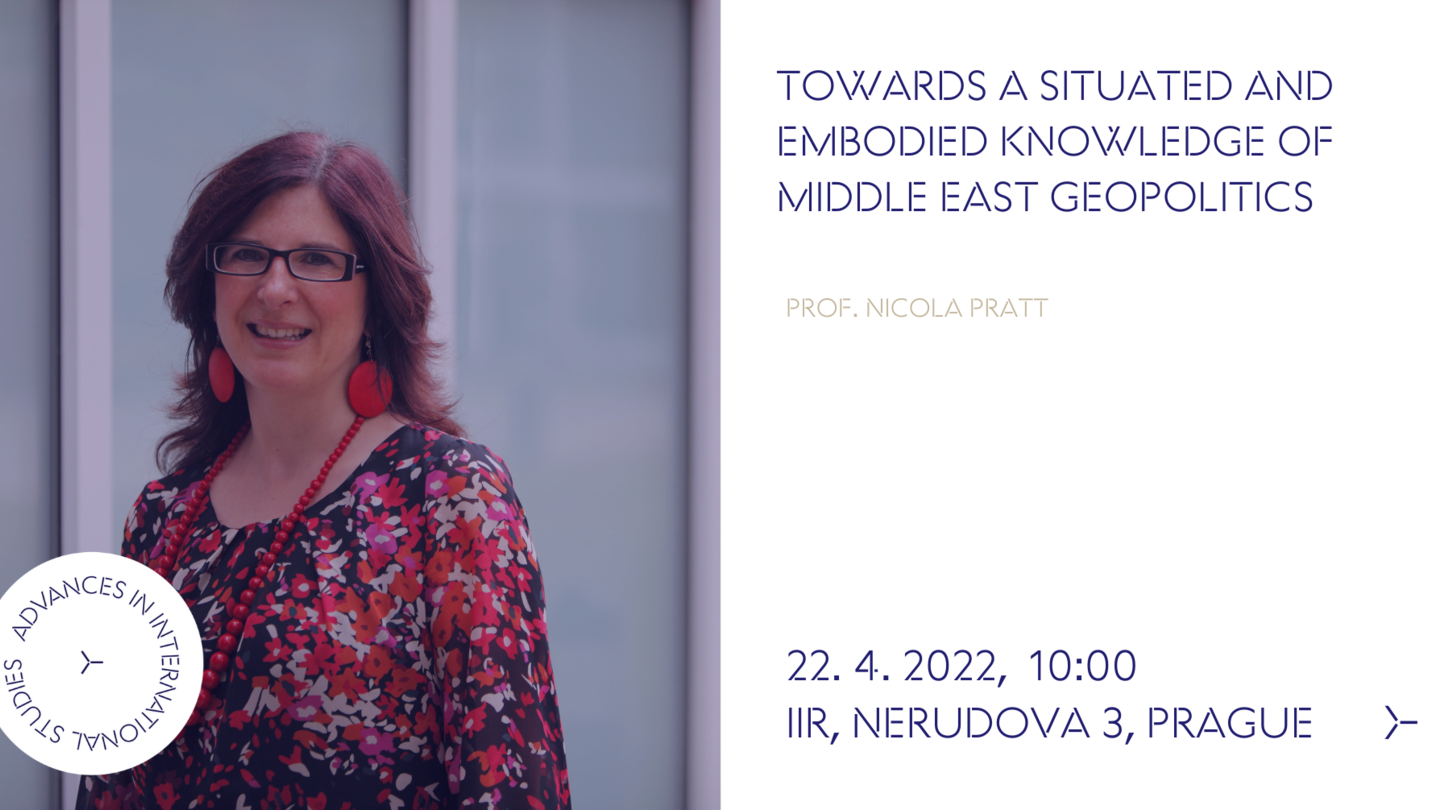 Towards a situated and embodied knowledge of middle east geopolitics
We would like to cordially invite you to a seminar "Towards a Situated and Embodied Knowledge of Middle East Geopolitics" which is part of our new series Advances in International Studies. Prof. Nicola Pratt will discuss the study of women activist narratives as a method for revealing how geopolitical power is constituted and reconfigured
22. 4. 2022 (10:00)
Language: English Institute of International Relations, Nerudova 257/3, Malá Strana, 118 00 Praha 1
This talk, drawing on Nicola Pratt's 2020 book, Embodying Geopolitics: Generations of Women's Activism in Egypt, Jordan, and Lebanon, argues for a situated and embodied knowledge of Middle East geopolitics. The seminar will discuss the study of women activist narratives as a method for revealing how geopolitical power is constituted and reconfigured at multiple scales from the personal to the global and the vital role of women's bodies in this regard.
Nicola Pratt is a professor in the Politics and International Studies Department at the University of Warwick. She teaches and researches on the international politics of the Middle East, with a particular interest in feminist and decolonial approaches and a focus on 'politics from below.' She has written and co-edited a number of books on women and gender in the Middle East. Her most recent monograph, entitled, Embodying Geopolitics: Generations of Women's Activism in Egypt, Jordan and Lebanon, was published by University of California Press in fall 2020 and was awarded the Susan Strange Prize for the best book by the British International Studies Association. She has also written extensively on Egyptian 'politics-from-below' and is currently co-authoring a book on popular culture and the contested meanings of the 2011 Egyptian revolution.
This seminar will be chaired by Dr. Cherine Hussein. 
2/4 ADVANCES IN INTERNATIONAL STUDIES
This seminar is part of Advances in International Studies is the IIR's flagship series of academic talks. We invite both established and emerging scholars who make a novel or unfamiliar contributions to our understanding of global politics. Each session will consist of an introductory talk and will be followed by an open discussion in a seminar setting.
To participate, please register below
We would also like to invite you to another lecture by Professor Nicola Pratt: Generations of Women´s Activism in Egypt, Jordan, and Lebanon, which takes place on Thursday, 21 April 2022, 17:45 at The Faculty of Arts, Jan Palach Square 2, room P104. More information can be found HERE