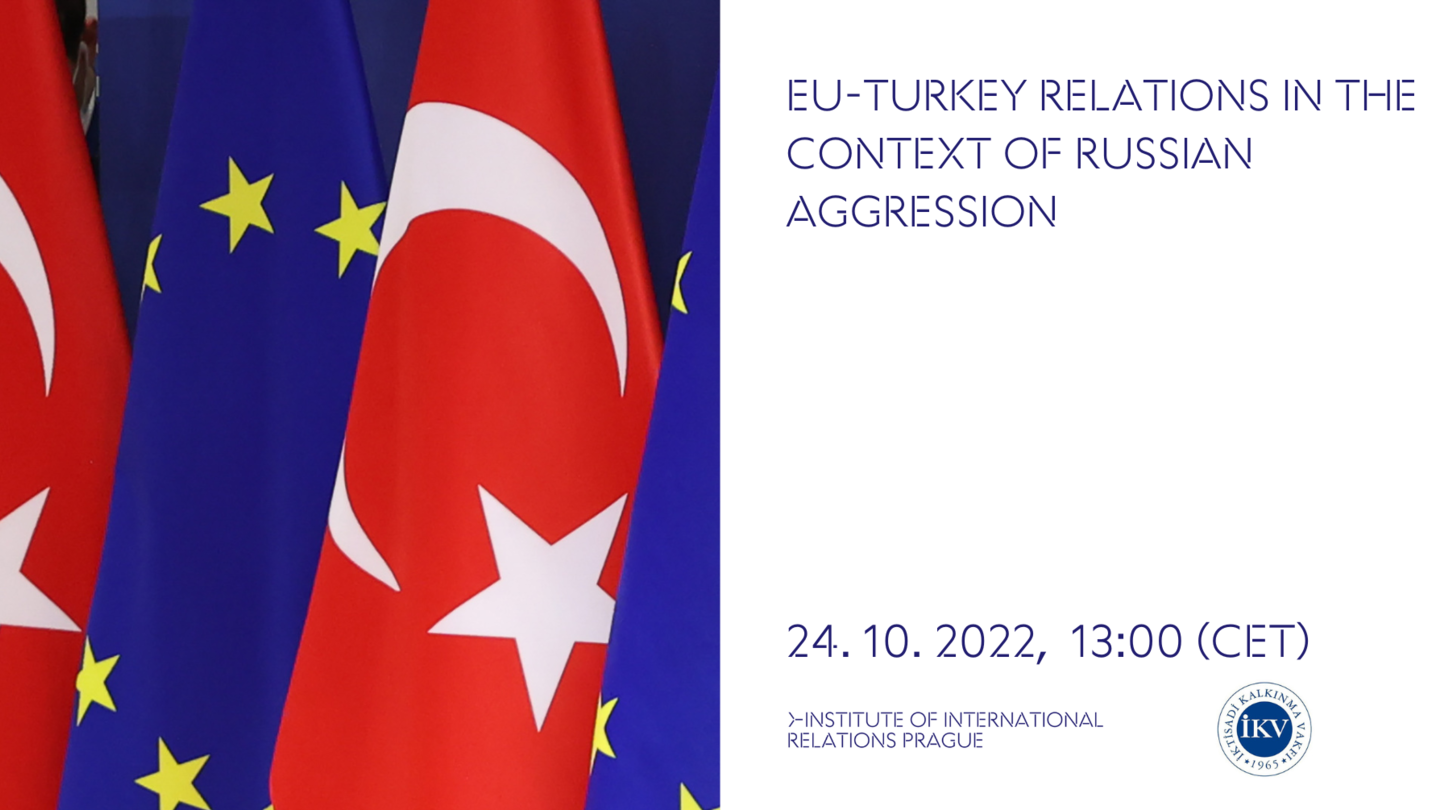 EU-TURKIYE RELATIONS IN THE CONTEXT OF RUSSIAN AGGRESSION
In cooperation with the Economic Development Foundation of Turkiye, we would like to cordially invite you to a seminar to discuss Turkiye-EU relations under the effects of Russia's invasion of Ukraine.
24. 10. 2022 (13:00)
Language: English Institute of International Relations, Nerudova 257/3, Prague
Despite the ebbs and flows observed in Turkiye's relations with the European Union, Turkiye is still formally a candidate for accession. It also occupies an important position in the EU's external relations as a neighboring country with extensive involvement in adjacent regions in areas such as security, migration, trade and energy.  
Recently Russia's invasion of Ukraine created seismic waves in European security architecture and drew attention to Turkiye's role as a mediator. Moreover, Ukraine's candidacy to the EU revitalized the enlargement process creating doubts about the future of the EU's borders among the other candidate countries. Irrespective of the membership prospect, close economic and commercial relations as well as Turkiye's role in European security warrant closer cooperation, dialogue and coordination between the parties.  
This seminar aims to explore the prospects for closer engagement between the EU and Turkiye owing to the changing conditions following the War in Ukraine. Expert speakers will provide their perspectives regarding Turkiye-EU relations under the effects of Russia's invasion of Ukraine regarding European security architecture, the energy crisis, the green deal, trade and economic relations, and the question of EU borders and enlargement.
The event is co-organized with the Economic Development Foundation of Turkiye.
Please register below to participate.
Day 1

24/10/2022
Opening Speeches
Ondřej Ditrych
Director of the Institute of International Relations Prague
Ayhan Zeytinoğlu
Chairperson of the Economic Development Foundation
H.E. Egemen Bağış
Ambassador of Turkiye to the Czech Republic
H.E. Martin Košatka
Junior Deputy Minister and the Director of the South and South-East Europe Department, Ministry of Foreign Affairs of the Czech Republic
Panel Session I: Where does Turkey stand in the future of European integration?
Eva Horelová
Head of the Political Section of the Representation of the European Commission in the Czech Republic, Prague
Nilgün Arısan Eralp
The Economic Policy Research Foundation of Turkey (TEPAV), Ankara
Sanem Baykal
TOBB Economy and Technology University, Ankara
Moderator: Pelin Ayan Musil
Senior Researcher, Institute of International Relations, Prague
Panel Session II: The Changing European Security Architecture and the EU-Turkey Dialogue
Amanda Paul
Senior Analyst, European Policy Centre, Brussels
Tomáš Kaválek
Director of the Prague Centre for Middle East Relations (PCMR), CEVRO Institute
Çiğdem Nas
Associate Professor, Economic Development Foundation and Yıldız Technical University, Istanbul
Moderator: Karolína Lahučká
Research Fellow, Association for International Affairs, Prague
Auspice
Organized jointly with Economic Development Foundation (IKV) of Turkey