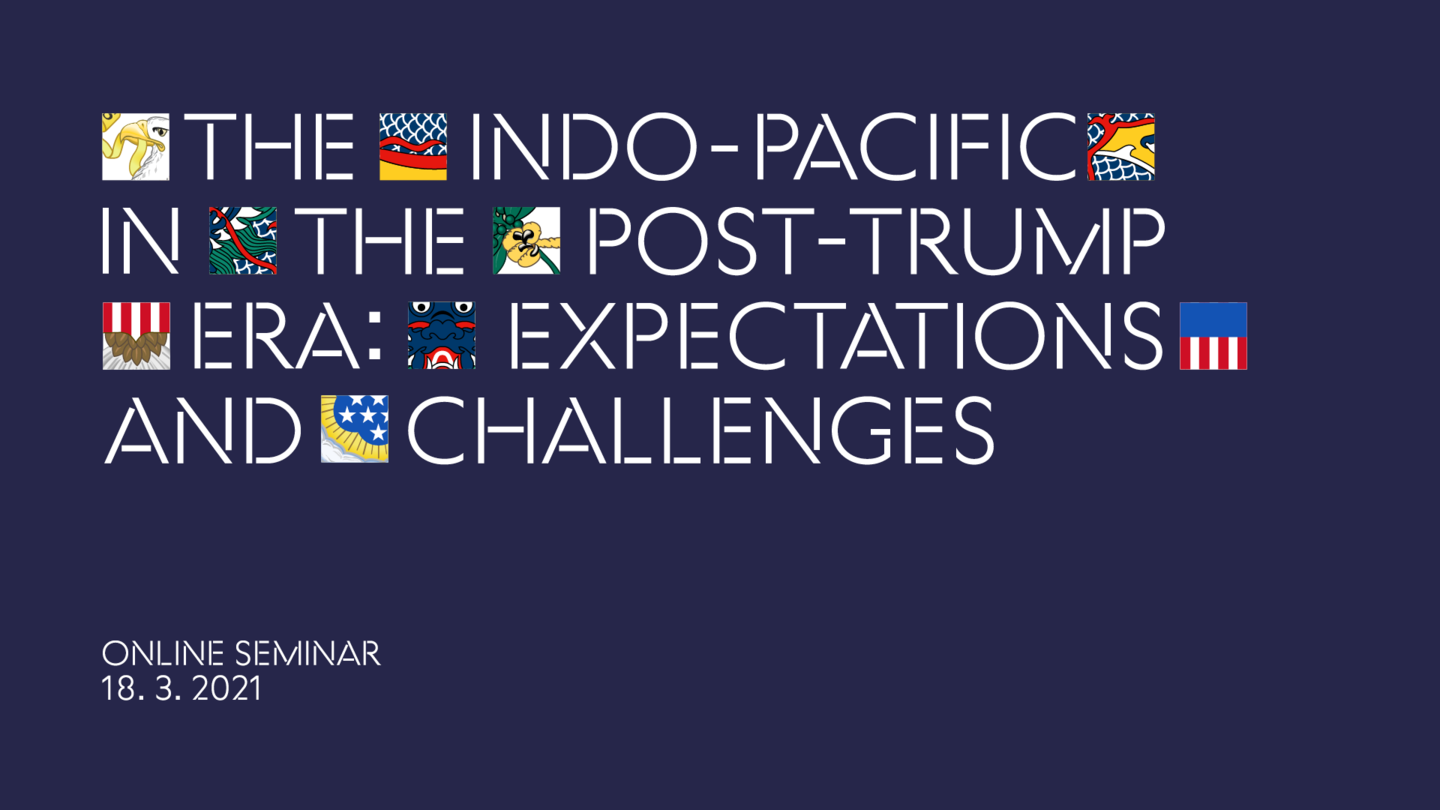 The Indo-Pacific in the post-Trump era: Expectations and Challenges
The Institute of International Relations Prague has the great pleasure of inviting you to a webinar whose theme is "The Indo-Pacific in the Post-Trump Era: Expectations and Challenges" on 18th March 2021.
18. 3. 2021 (11:15)
ONLINE
The webinar aims to join the current discussion on the evolving dynamics among great and middle powers in the Indo-Pacific area since the accession of President Joe Biden and his new administration to the White House. President Biden's new foreign policy team presented their approach to world affairs by declaring "America is back, ready to lead the world" in November 2020. As such, a departure from President Trump's "America First" foreign policy and a return to liberal internationalism are broadly expected. What does it mean for the U.S. international mission in the Indo-Pacific, and for the geopolitical balance between the increasingly assertive China and its close neighbourhood? In which direction and to what extent will the process of decoupling between the West and China continue, and how will these trends affect the Asian states? What's Japan's role in the post-Trump Indo-Pacific and what are the expectations regarding the US-Japan Alliance? What are the prospects and challenges for the US-Japan-EU cooperation and for the QUAD? What strategic plans are there for Australia and/or South Korea, and what are the expectations regarding the Asia-Pacific trade deals (the RCEP, the CPTPP)? This event brings together the perspectives of experts from the USA, the Czech Republic, France, Japan and Australia.
Day 1

18/03/2021
Opening Remarks
Ondřej Ditrych
Director of the Institute of International Relations Prague
Part 1
Hiroyuki Akita
Nikkei Commentator, Japan
Laura-Anca Parepa
Special Research Fellow, Institute of Policy Studies, Tsuda University, Japan
Rosita Dellios
Associate Professor, Bond University, Australia
Jan Hornát
Head of Department of North American Studies, Charles University Prague, the Czech Republic
Moderator: Alica Kizeková
Head of Asia Pacific Unit, IIR Prague, the Czech Republic
Part 2
Robert G. Sutter
George Washington University, Professor of Practice of International Relations, George Washington University, USA
Michito Tsuruoka
Associate Professor, Keio University, Japan
Françoise Nicholas
Director of Center for Asian Studies, IFRI Paris, France
Michal Kolmaš
Head of Department of Asian Studies, Metropolitan University Prague, the Czech Republic
Moderator: Jan Hornát
Head of Department of North American Studies, Charles University Prague, the Czech Republic