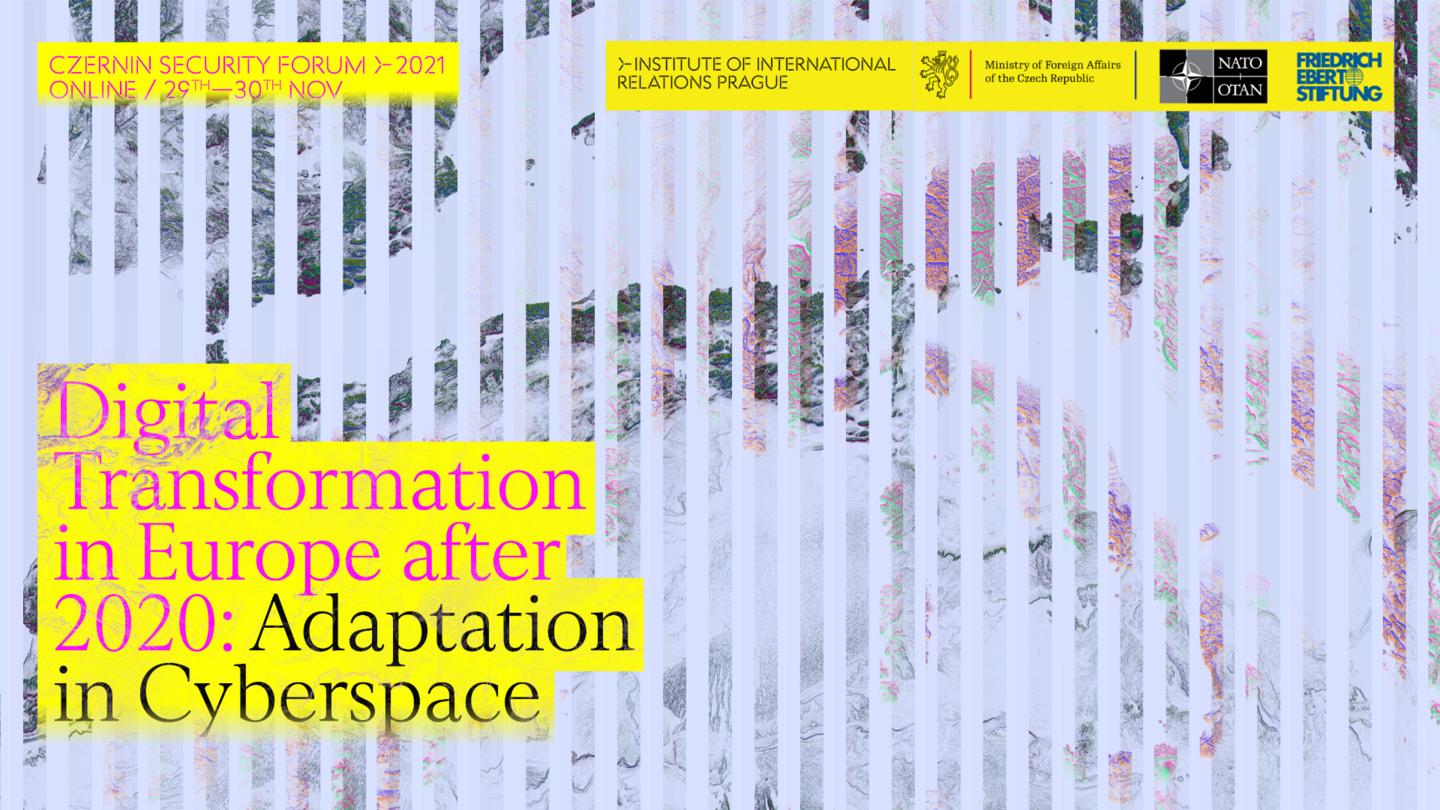 2021 Czernin Security Forum: Digital Transformation in Europe after 2020: Adaptation in Cyberspace (ONLINE)
Together with the Ministry of Foreign Affairs of the Czech Republic, NATO and Friedrich Ebert Stiftung we would like to cordially invite you to our annual security conference. This year our distinguished guests will discuss "Digital Transformation in Europe after 2020: Adaptation in Cyberspace."
29. 11. 2021 (10:00)
Language: English Online
The world has experienced a rapid digital transformation with people working and accessing services online and communicating through digital means more than ever before because of the covid-19 pandemic. The 2021 annual Czernin Security Forum will focus on three key issues of cyber security related to developments that have become particularly sensitive recently: personal data, hacking of critical infrastructure, and online disinformation operations. 
Concerning personal data, CSF will focus on the relationship between the collection, protection, and dissemination of data. Experts will address questions raised by the public demand for privacy, and the attached security and political issues in relation to general surveillance and public health concerns. This leads to the need to pay attention to the issue of critical infrastructure protection. The digital transformation has brought changes faster and of a greater magnitude than ever before and many societies can find it difficult to adapt. Do governments and private actors have the capacity to protect critical infrastructure from hacking? What are the challenges and limitations?
Finally, online disinformation operations have proven to be a persistent source of polarization and radicalization across countries in Europe. The changing structure of disinformation campaigns threatens the security of democratic institutions and values. Societies are already dealing with unprecedently complex challenges: not only election hacks but the risk of deep disintegration of democratic policies in the conditions of post-truth politics enhanced by technologies, including algorithms determining choice architectures and deep fakes. How do states and individuals adapt to this new environment? The 2021 Czernin Security Forum will try to connect the three most sensitive aspects of cyber security to provide policymakers with advice and guidance in their future efforts to deal with this topic.  

The programme is subject to change. 

Partners and co-sponsors: NATO's Public Diplomacy, Friedrich Ebert Stiftung and the Ministry of Foreign Affairs of the Czech Republic
Day 1

29/11/2021
Day 2

30/11/2021