Russian Election 2018: Is all as it seems?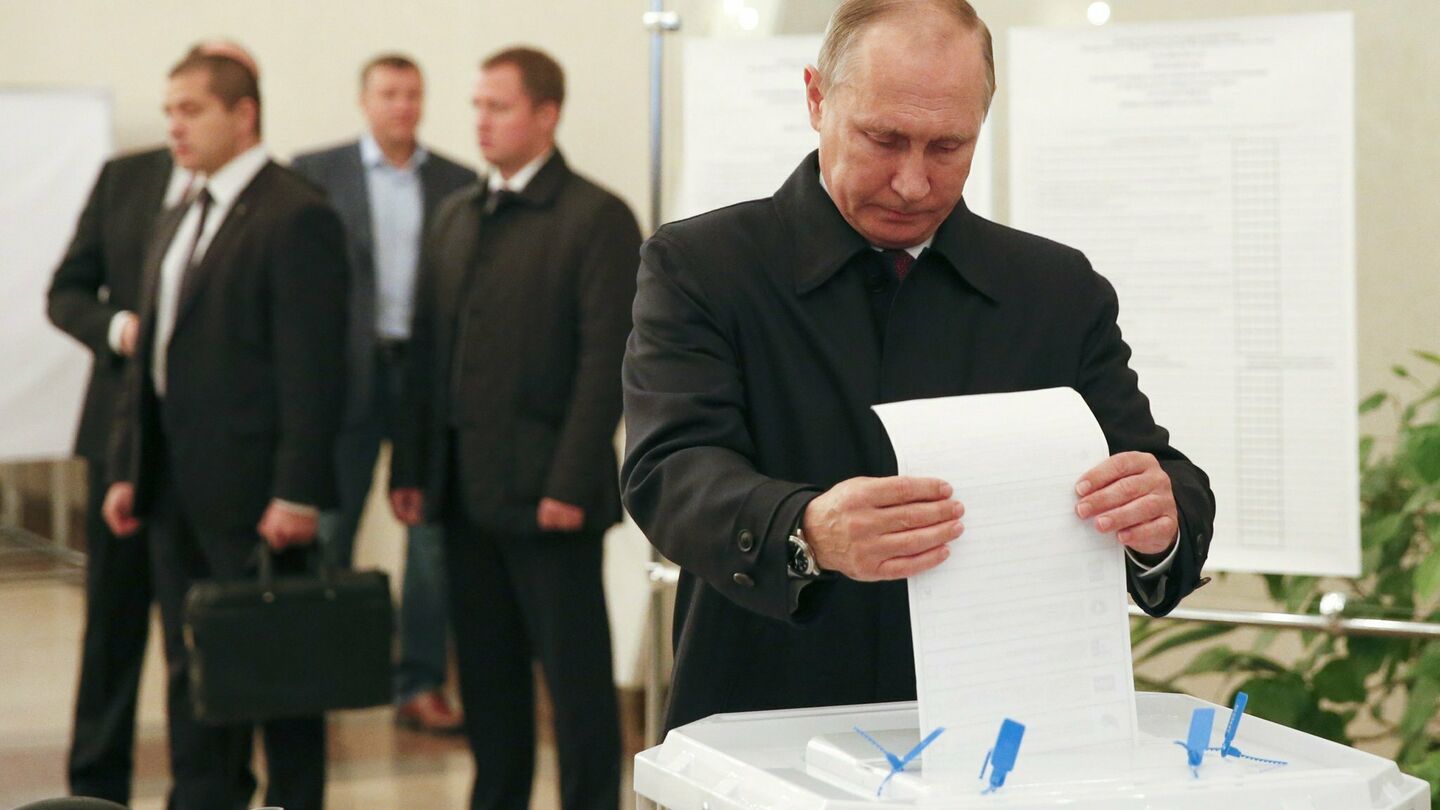 On 18 March 2018, Russians will head to polls and Vladimir Putin will undoubtedly be elected as President for another six-year term. Even four months out from the election, few would be foolish enough to disagree with this, and yet, Russia's political atmosphere feels uncharacteristically on edge. This, of course, cannot be attributed to the expected landslide for the incumbent Putin. Rather a number of trends have surfaced over the last few months and added some intrigue to an otherwise featureless political landscape.
The beginning of the end for Putin?
If Putin rules until 2024, he will be into his seventies, and barring another manipulation of the Russian constitution, he would have to repeat his 2008-12 'castling' act with Dmitrii Medvedev in order to then stand for election again in 2030. This would make him 77 years old. Given his public reluctance to rule for life, and apparently dwindling enthusiasm, the end of his time in power, at least formally as President, has become decidedly more discernible, even if still several years away. The Russian press has latched onto this feeling of impending change and published a number of articles speculating on a future without Putin. Whilst Putin has always stressed the importance of stability in Russia, exploiting Russians' memories of the 'wild' 1990s, his vice-like grip on power has paradoxically given rise to a set of circumstances fraught with uncertainty. Russia's nascent post-Soviet institutions have been hollowed out leaving respected figures such as Minister of Foreign Affairs Sergei Lavrov relegated to the sidelines. Such professionals have been seen their influence wane to the advantage
of
those whom analyst Mark Galeotti has dubbed an 'adhocracy', a select group of trustees loyal to the President, most of whom originate from within business or the civil service and lack any formal position within the government. Putin's system of governance has become so dependent on him that it remains unclear how it will function without him at the helm. For the most part history has shown that only truly repressive dictatorships such as North Korea or Turkmenistan are able to cope with the death of their supreme leader, purely because the space for dissent and social unrest is so limited. In Russia, however, where at least the vestiges of democracy are maintained, more scope exists for upheaval. Of course, if one assumes that Putin will rule for another term, he has six years to anoint a successor. The identity of such a figure remains a mystery, and as the Russian sociologist Sergei Belanovskii has remarked, it will be impossible for Putin's successor to wield the same legitimacy as his predecessor. Putin's legitimacy transcends approval ratings and opinion polls, for he has tapped into a wider sense of inertia and fear of instability. As such, he finds himself beyond reproach from the vast majority of Russia's voters. Whilst people will gladly express discontent over the poor quality of their roads, hospitals and schools, blaming local and federal authorities, Putin has carved out a place for himself above these disputes, and in the minds of most Russians, does not bear responsibility for any of his country's ills. With the knowledge that Putin cannot rule forever comes the realisation that politics in Russia cannot but change. It is unclear how much will change, how long the process will be, or whether it will be peaceful or bloody, but it is clear that when Putin goes, the system will be forced to adapt.
Source: http://en.kremlin.ru/events/president/news/55586
Turnout at an all-time low
Since Medvedev's short tenure as president between 2008 and 2012, the average Russian voter has become increasingly aware of the fraudulent nature of Russia's 'democracy' and thus become less and less politically inactive. Elections have become a ritual rather than an exercise in public opinion and turnout has decreased from 63.7% in the parliamentary elections of 2007 to 47.8% in 2016. With the rising levels of apathy, Russia's mainstream politics have become a charade bearing little relation to reality. As the Russian journalist Aleksei Kolobrodov has argued, "It is impossible to build virtual structures with no basis in reality for ever, as the supply of such rituals is always limited." While it would be delusory to expect this indifference to cause any political sea changes in the near future, it may leave the masses of non-voting Russians susceptible to the pull of the non-systemic opposition. Apathy has been the key factor allowing Putin to rule for so long, but it is foreseeable that it could play at least some role in crippling his system. The date of next year's election has been moved in order to coincide with the anniversary of Crimea's 2014 annexation, thus underscoring what has arguably been Putin's most popular foreign policy achievement. If, however, Putin is unable to awaken the Russian electoral mass from its current stupor, his coronation faces being ignominiously hollow.
If indeed political apathy does present a threat to the status-quo, evidence for it might be discerned in Moscow's recent municipal elections, where, for the first time since Putin came to power, the non-systemic opposition gained at least a measure of formal representation. A coalition of liberal forces gathered by Dmitrii Gudkov managed to win 267 of the 1,502 seats on offer on Moscow's district councils, finishing in second place overall, and winning majorities on over a dozen individual councils. Seats on municipal councils represent little genuine power, and Gudkov's coalition still trailed far behind Putin's ruling United Russia party, but the very fact that they made even the smallest dent in United Russia's stranglehold on government, should provide the opposition with real hope for the future. The real significance of these results lies in whether they can develop into something larger next time around. The opposition has indeed attained unexpectedly positive results in the past, but none has evolved into anything to concern the establishment. In 2013, Evgenii Roizman became mayor of Yekaterinburg, Russia's fourth largest city, and Aleksei Navalny almost succeeded in pushing the incumbent Sergei Sobyanin to a second round in Moscow's mayoral elections, collecting over 27% of the vote in the process. This time around the opposition succeeded in mobilising its traditional voters from the liberal intelligentsia whilst few others went to the polls. Any future gains will depend on the ability of Gudkov and his coalition to make inroads into the mainstream.
The Navalny factor
One opposition politician nonetheless succeeding in shifting the discourse of opposition politics beyond the realm of the Moscow and St Petersburg intelligentsia is Aleksei Navalny. Similarly to Gudkov's campaign, the significance of Navalny's political activity does not lie in concrete hopes of dethroning Putin. Forbidden from running in next year's election after receiving a five-year suspended sentence for supposed embezzlement, Navalny has nonetheless continued to campaign indefatigably, assuming the role of the opposition's main hope. His anti-corruption videos on YouTube gather millions of views, and his most recent set of organised protests saw over 100,000 Russians take to the streets on 12 June. The current number of campaign offices stands at 80 with more being opened almost every week, and he has managed to tap into the everyday grievances and concerns of Russians from Kaliningrad to Vladivostok whose living standards have decreased since the imposition of international sanctions in 2014 and the 2015-16 collapse in global oil prices.
Navalny marching with protesters along Moscow's Tverskaya Street, 26 March 2017
Source:https://commons.wikimedia.org/wiki/
Despite the refusal of Russian state television networks to acknowledge Navalny as a genuine political actor, sometimes going to absurd lengths not to name him publicly so as to restrict his coverage, he has harnessed a truly national movement and conquered social media in a way that Putin and mainstream politicians are unequipped to do. As a result, Putin's expected victory next year is set to ring hollow against the backdrop of Navalny's absence. Navalny has presented Russian authorities with a genuine problem; if they incarcerate him for the long term, as they easily could, he could equally easily become a martyr for the Russian opposition, and if they let him run for office next year, he could take the sparkle away from Putin's victory. As such, the current compromise sees Navalny continuing his campaign, even pledging to collect the required 300,000 signatures needed to register as a candidate. Despite spending a fifth of his campaign locked away following several short term prison sentences, and suffering a serious eye injury after being dowsed in green antiseptic fluid by a pro-Kremlin protestor, Navalny's resolve is yet to break.
Alongside his success in mobilising Russians outside of Russia's two main cities, Navalny has gone some way to changing public perception of corruption. Previously seen as the undesirable but ultimately inevitable excesses of the ruling elite, Navalny's slick videos have set about depicting corruption as a truly moral ill and as a direct cause of the declining living standards of ordinary Russians. Navalny's astuteness means that for the large part, he eschews direct criticism of Putin, choosing rather to attack figures not beyond public reproach. Investigatory videos targeting the corruption of, amongst others, Prime Minister Dmitrii Medvedev, the oligarch Alisher Usmanov and Nikolai Choles, the spoiled son of Putin's press-secretary Dmitrii Peskov, represent a break from the inconsequential Putin-focused protests organised by other opposition figures such as Mikhail Khodorkovskii. Navalny knows he will not win in 2018, let alone make it to the ballot paper, but his tireless efforts are gradually bringing Russia's mainstream out of stupor.
It is very unlikely that any of the above factors will have any appreciable impact as Russians cast their votes next spring. However, as it is becoming increasingly apparent that Putin cannot rule for ever, the significance of grass roots politics looks set to grow against the backdrop of widespread apathy. The real questions are how fast these grass roots will grow and how well Putin's anointed successor will fill the inevitable power vacuum left by his predecessor.

About the author
Francis Scarr holds a BA in Modern and Medieval Languages from the University of Cambridge and was a Research Assistant Intern at the IIR
Sources
Balmforth, Tom, 'Moscow Vote Touted As "Small Revolution For Russian Opposition", Radio Free Europe/Radio Liberty, 11/09/17, https://www.rferl.org/a/russia-moscow-elections-opposition-small-revolution/28729685.html, last accessed 03/10/17
Baryshnikov, Valentin, 'Где ты, вождь?' [Where are you, leader?], 17/08/17, https://www.svoboda.org/a/28680045.html, last accessed 03/10/17
Bershidsky, Leonid, 'Vladimir Putin Has an Enthusiasm Problem' 14/09/17, https://www.bloomberg.com/view/articles/2017-09-14/vladimir-putin-has-an-enthusiasm-problem, last accessed 03/10/17
Galeotti, Mark, 'Russia has no grand plans, but lots of "adhocrats"', 18/01/17, http://www.intellinews.com/stolypin-russia-has-no-grand-plans-but-lots-of-adhocrats-114014/, last accessed 03/10/17
Kashin, Oleg, 'Не устанет, не уйдет. Почему у Путина не будет преемника' [He won't tire, he won't leave. Why Putin won't have a successor], 25/08/17, https://republic.ru/posts/86022, last accessed 03/10/17
Ibid., 'Устойчивость режима, переходящая в обреченность. Рухнет или не рухнет?' [The stability of a regime heading for doom. Will it collapse?], 06/07/17, https://republic.ru/posts/84658, last accessed 03/10/17
Ibid., 'Он вам не Песков. Что изменит новое расследование Навального' [He's not Peskov to you. What Navalnii's new investigation changes], 18/08/17, https://republic.ru/posts/85893, last accessed 03/10/17
Kolobrodov, Aleksei, 'Отмена репетиций. Какими будет выборы-2018 после единого дня голосования' [Rehearsals cancelled. How the 2018 elections will be after a single day of voting], 13/09/17, https://snob.ru/selected/entry/128967, last accessed 03/10/17
Meduza, 'Navalny and his campaign manager are locked up for 20 days, as supporters call for nationwide protests on Saturday, Putin's birthday', 02/10/17, https://meduza.io/en/news/2017/10/02/navalny-and-his-campaign-manager-are-locked-up-for-20-days-as-supporters-call-for-nationwide-protests-on-saturday-putin-s-birthday, last accessed 03/10/17
Parkhomenko, Sergei, 'What Is The Point of Navalny's "Pointless" Election?', 23/08/17, http://www.kennan-russiafile.org/2017/08/23/%D0%B7%D0%B0%D1%87%D0%B5%D0%BC-%D0%BD%D0%B0%D0%B2%D0%B0%D0%BB%D1%8C%D0%BD%D0%BE%D0%BC%D1%83-%D0%B1%D0%B5%D0%B7%D0%BD%D0%B0%D0%B4%D0%B5%D0%B6%D0%BD%D1%8B%D0%B5-%D0%B2%D1%8B%D0%B1%D0%BE%D1%80%D1%8B/, last accessed 03/10/17
Radio Free Europe/Radio Liberty, 'Russian Election Monitor Reports "Illegal Tactics" During September 10 Vote' 12/09/17, https://www.rferl.org/a/russia-elections-golos-illegal-tacticis/28730804.html, last accessed 03/10/17
RBC, 'Эксперты заявили о резком росте числа протестов в России' [Experts announced a sharp increase in the number of protests in Russia], 10/07/17, http://www.rbc.ru/politics/10/07/2017/596375709a7947363a3a9d94, last accessed 03/10/17
Trudolyubov, Maksim, 'Moscow's Invisible Grassroots', 14/09/17, http://www.kennan-russiafile.org/2017/09/14/moscows-invisible-grassroots/?mkt_tok=eyJpIjoiT1dGbE9UUmtOR1UyWVdaaCIsInQiOiJ6T05oT2F1dVI3anRXSTdidjFYblZGdVhNUzBoNnA5cXNOQUpncUdWUVwvVXYxSjZaNGw4cExrTTZEUHJUaWZISEJ3QzNjcFBLQXV6UkNaYWNOVmFnTkVIb2xDZEpWUnJQRFJ2M0U5MDM2NHQ1dkhDajBVRDJyMDk5SVg3aE9kVVMifQ==, last accessed 03/10/17