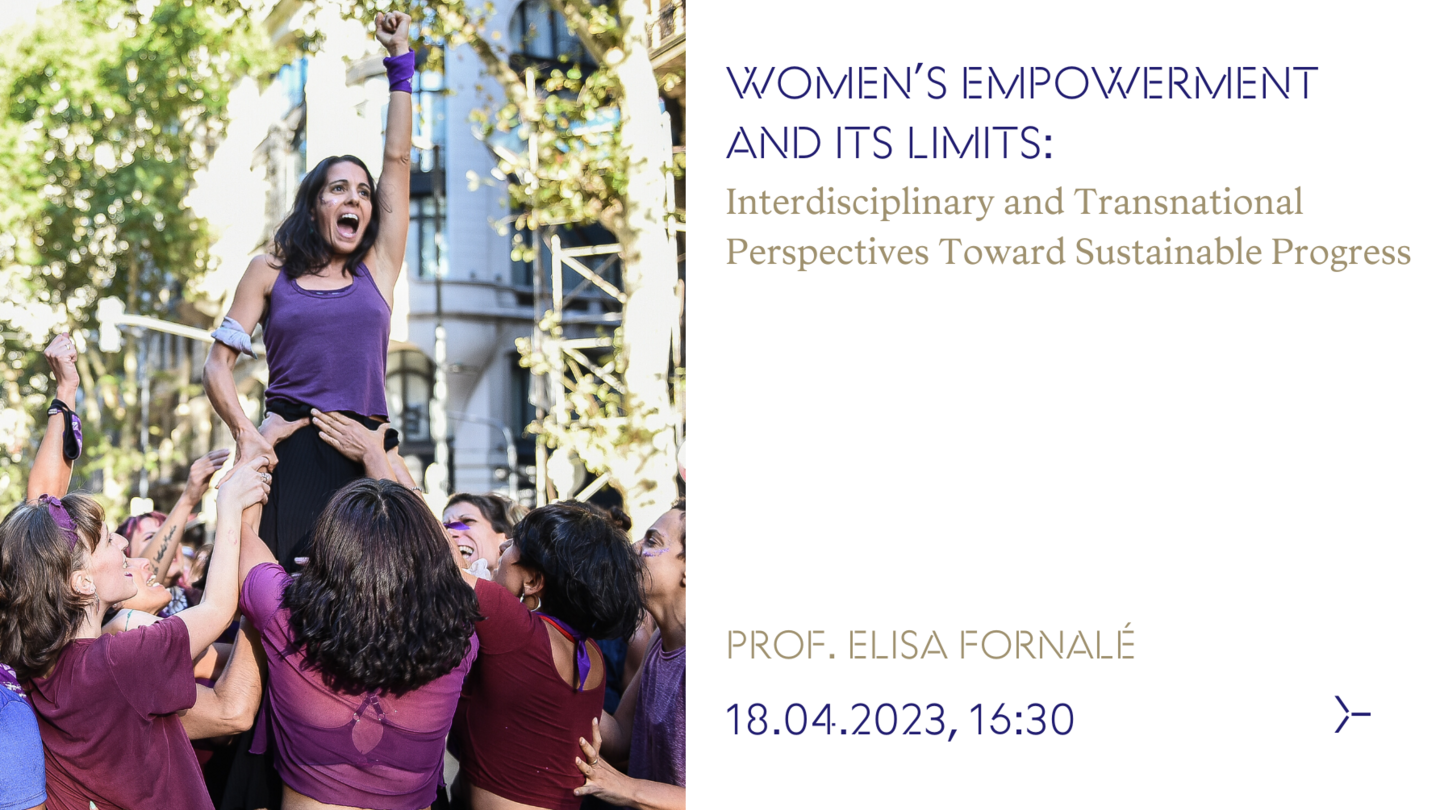 Women's Empowerment and its Limits: Interdisciplinary and Transnational Perspectives Toward Sustainable Progress
The Institute of International Relations Prague would like to invite you to the launch of Prof. Elisa Fornalé and Dr Federica Cristani's edited book titled 'Women's Empowerment and its Limits: Interdisciplinary and Transnational Perspectives Toward Sustainable Progress'
18. 4. 2023 (16:30)
Language: English Institute of International Relations Prague, Nerudova 257/3
In 2020, the 64th session of the United Nations (UN) Commission on the Status of Women drew the attention to the urgency of strengthening synergies between sustainability and gender. Indeed, gender equality is "a necessary foundation for a peaceful, prosperous and sustainable world" (UN Sustainable Development Goals).
But how to include the gender dimension in the sustainability discourse in an efficient way? And how to address the relevant challenges, especially during emergency times?
Bringing together a range of scholars, the forthcoming edited volume "Women's Empowerment and its Limits: Interdisciplinary and Transnational Perspectives Toward Sustainable Progress" (Palgrave Macmillan/ Springer) aims to investigate the limits and boundaries of women's empowerment to achieve sustainability. It does so firstly, by unpacking the de facto mechanisms (informal and formal) that matter for women's inclusion (know the limits); secondly, by taking into account concrete examples of limits in practice (test the limits); thirdly, by proving how the rise of new technologic innovations may render limits obsolete (cross the limits).
The discussion on the book will highlight the complementary dimensions (socio-economic, cultural, public, and decision-making) of gender and sustainability issues. The two editors of the volume (Prof. Elisa Fornalé and Dr Federica Cristani) will discuss how this approach provides for a useful framework that enables to connect human rights, participation, and institutionalisation as building blocks for the pursuit of women's empowerment.
Elisa Fornalé is a Swiss National Science Foundation Professor at the World Trade Institute, University of Bern, Switzerland. She holds a law degree from the University of Trento, Italy, and a PhD in law from the University of Palermo, Italy, and she specialises in international law, climate change, human mobility and human rights. Since 2021, she has led the "Gender Equality in the Mirror: Clothing the Invisibility of Women at International Level (GEM)" project. Since 2017, she has been the Principal Investigator of the project "Framing Environmental Degradation, Human Mobility and Human Development as a Matter of Common Concern" and since 2021, she has been the appointed Co-rapporteur of the International Law Association Committee on International Law and Sea Level Rise. She is also member of the WTO Gender Research Hub, launched by the WTO Secretariat in May 2021.