The new issue of the Czech Journal of International Relations (58:2)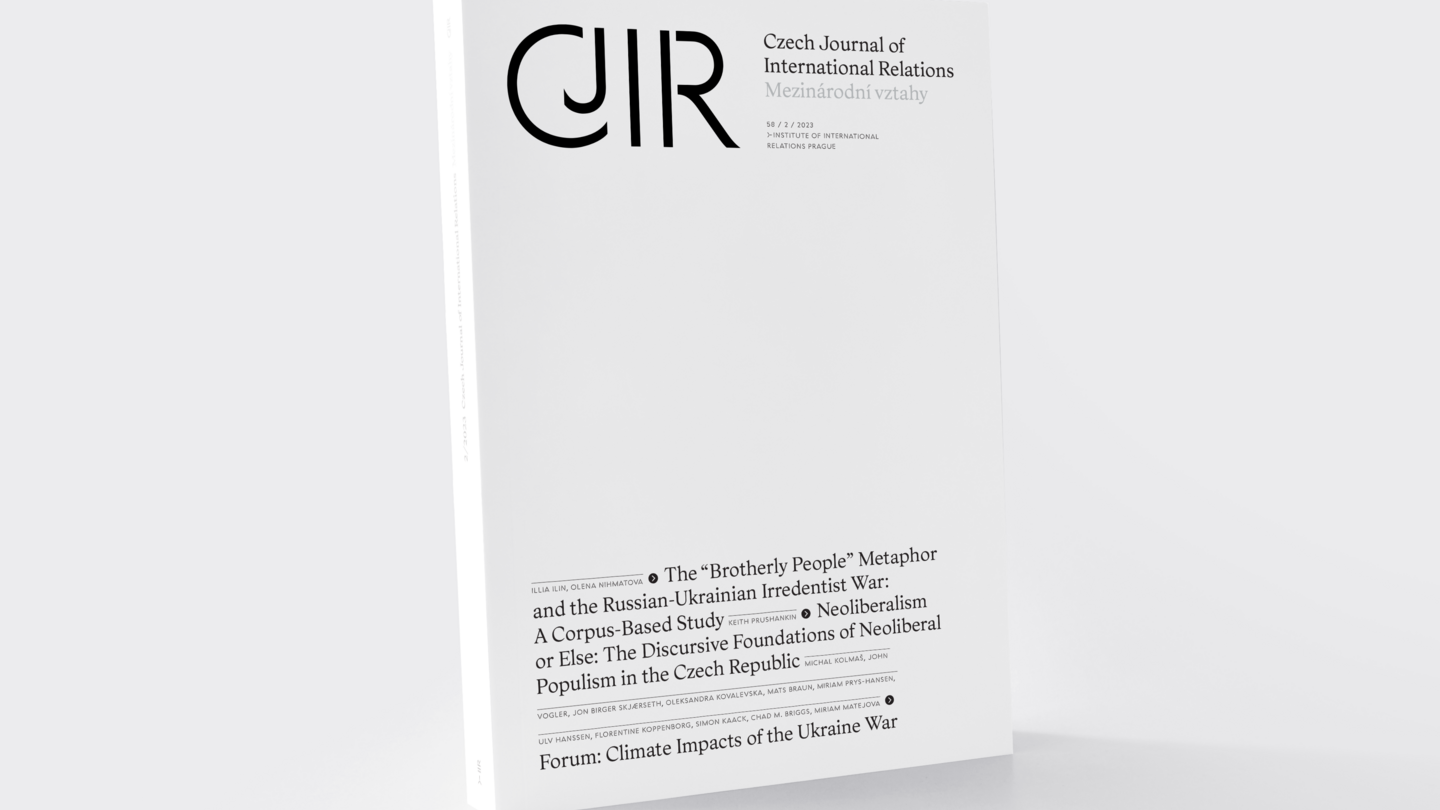 The new issue of the Czech Journal of International Relations (58:2) has just been published. It includes two research articles, six forum contributions with an editorial by  Michal Kolmaš, and one book review.
The two full-length pieces were written by Illia Ilin and Olena Nihmatova from the V. N. Karazin Kharkiv National University and Keith Prushankin from the Freie University Berlin. The former, titled The "Brotherly People" Metaphor and the Russian-Ukrainian Irredentist War: A Corpus-Based Study, dissects large corpora of Russian and Ukrainian texts to illustrate how the "brotherly nation" metaphor has been used to legitimize Russian invasion of Ukraine.
The latter, titled Neoliberalism or Else: The Discursive Foundations of Neoliberal Populism in the Czech Republic, uses Laclau's concept of equivalent linkages to examine the linkage of markets and democracy in the post-1989 Czech transition. It shows that the neoliberal populist discourse delegitimized alternatives to the market as a return to authoritarianism.
Besides these two articles, Issue 2 of 2023 also offers a Forum titled Climate Impacts of the Ukraine War. The forum comprises six articles analysing the energy and climate impacts the war in Ukraine has brought on the European Union and several other nations.
We seek to uncover how the war changed the EU's energy and climate policy as well as its fundamental ideas and narratives. The pieces in the Forum were written by John Vogler (Keele University), Jon Birger Skjærseth (The Fridtjof Nansens Institute), Oleksandra Kovalevska (Metropolitan University Prague) with Mats Braun (Institute of International Relations Prague), Miriam Prys-Hansen (GIGA Hamburg) with Simon Kaack (Lund University), Ulv Hanssen (Soka University) with Florentine Koppenborg (Technical University of Munich) and Chad M. Briggs  (the Asian Institute of Management) with Miriam Matejova (Masaryk University). The Forum was edited by Michal Kolmaš (Metropolitan University Prague).
The issue also offers one book review written by Rudolf Fürst (Institute of International Relations Prague).